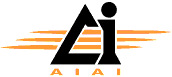 The AIAI Technical Report Series was transferred to the School of Informatics Publications on January 1st 2000. This page gives links to AIAI Publications prior to that date.
---
An repository of online PDF copies of many of the AIAI publications is available.
You might also like to try our Projects Page (or Pre-1999 Projects Page) for pointers to more publicatons and information on our work.
---
These are papers that have been presented at a conference, published in a journal or submitted for publication, and which have been authored, or co-authored, by staff of AIAI.
These are written either by AIAI staff concerning study reports and major projects, or by visitors concerning their project work undertaken while at the Institute.