---
Collectables and Merchandise
---
Index to Supercar Collectables
---
Collectables and Merchandise Web Sites
---
Playing Mantis Johnny Lightning Supercar Diecast (2001)
Johnny Lightning 1:64 Supercar Diecast by Playing Mantis.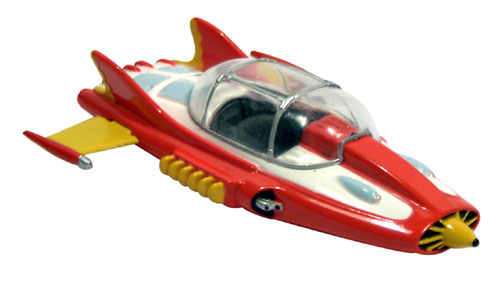 1:64 Diecast Supercar by Johnny Lightning - in the Hollywood on Wheels 3 Set.

Hollywood on Wheels 3 - released 18-May-2001 - with the following cars: Mod Squad Woody, Black Beauty, Felicity Shagwell's '65 Corvette, Mystery Machine, Supercar, and Partridge Family Bus. See Playing Mantis Press Release (Microsoft Word DOC format).


The modelling of the Johnny Lightning Supercar was carried out by Alan Pletcher at Playing Mantis, who kindly supplied these images of a pre-production model. Images used with permission of Suzi Klimek at Playing Mantis. Business contact at Playing Mantis is Tom Lowe, 3618 Grape Road, Mishawaka, IN 46545
Variants
White Lightnings... these have a white interior (versus the standard dark gray) and white wheels (versus the standard black). Playing Mantis make a limited number of these variants (1% of the total production run according to Alan Pletcher of Playing Mantis on 1-Jun-2001) that show up randomly in cases of the normal shipping product.



50 raw metal unpainted cars of the original version were released to Johnny Lightning Club members who placed orders through the club. This was described in Johnny Lightning NewsFlash No. 28 Spring 2001, page 6.
A limited edition of 1000 pieces was produced for K.B.Toys.com. This had the original extended wings in yellow and a closed canopy. But the red body and rear fin colouring was in a metallic finish paint. The packaging was a white box with black and white printing with the text "K.B toys.com Internet Exclusive 1 of 1000" printed on 2 sides, and the Supercar title logo printed on the other two slides. One end of the box carried the Johnny Lightning logo, the other end carried a bar code. This limited edition became available in November 2001 at a cost of $12.99 exclusive of postage and packaging.

Other Information
On 14 Jan 2001 MEC <MEC50@Mediaone.net> wrote to the Supercar Club 2000 Black_Rock_1 Newsgroup:
Subject: Backstory on Supercar diecast

You might be interested in the 'backstory' of how Playing Mantis/Johnny Lightning just happened to be coming out with a Supercar diecast toy. About 3 years ago, a Gerry Anderson fan (and good friend of mine) named Bill Winckler was creating licensing deals for Playing Mantis. One of his efforts resulted in the release of a Mach 5 die cast vehicle from the cartoon series Speed Racer. Bill was very interested in pursuing a license agreement with ITC (owners of the Anderson library and licensing at the time) to make die cast vehicles of Thunderbirds, Fireball XL5, and Supercar. He met with the representatives of ITC, but was only able to come away with a Supercar license. Then, Bill had to do some convincing at the upper levels of Playing Mantis that a Supercar die cast would sell. After all, the show was over 35 years old at the time and had not played on American television for quite a while. Bill prevailed, and at one point, he actually saw the Supercar prototype. However, Playing Mantis had many other lines in production (along with plastic kit re-issues) and the project seemed to 'wither' on the vine. Now, years later, Johnny Lightning is finally getting around to marketing Supercar as part of the Hollywood on Wheels series.
Playing Mantis Johnny Lightning Supercar Diecast (2001B)
Version B Playing Mantis released a variation on the original model in September 2001. This has retracted wings with white surfaces and Supercar decals on the sides of the nose.
Variants
A White Ligntning variant with a white interior was also included in the B release.
---
Konami Model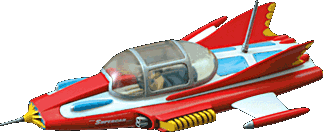 Konami SF Model Set - Japan - February 2003. Modelled by Toshinari Ichihara.
[General information] [Supercar Details] [Local Copy]

---
Supercar and Fireball XL5 CD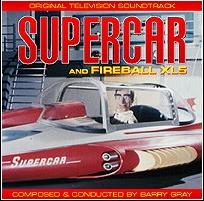 Supercar and Fireball XL5 Original Television Soundtrack. A CD available only to Fanderson members. Composed and Conducted by Barry Gray. A compact disc album featuring the original recordings of the themes and incidental music composed for Supercar and Fireball XL5, digitally remastered from Barry Gray's master tapes. 52 tracks including both first and second season versions of the Supercar theme song, Fireball XL5 opening and closing titles, "Formula 5", "This Is The Twist", "Batonga Theme", "Zizi's Song", numerous character themes and individual episode scores. (Note: many of these tracks formed part of the scores for the later Gerry Anderson series, including Stingray, Thunderbirds, Captain Scarlet, Joe 90 and Space:1999.) CD comes complete with 16 page colour booklet detailing the origin of each track. For more details see the Fanderson Sales site.
Peter Pan 45rpm Record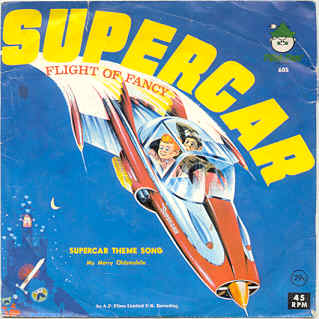 Image from Ebay auction.

Fanderbooks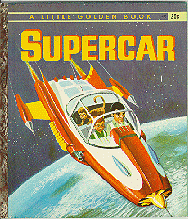 Fanderbooks - Gerry Anderson Book List (including Supercar). Little Golden Book cover scan by Marc Frattasio.
Budgie Diecast Model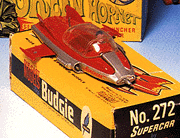 Supercar: Budgie Models #272, UK 1962. Red and silver painted metal body with transparent plastic cockpit canopy. Small plastic seated Mike Mercury pilot figure, movable wings, rolling wheels. About 122mm long.
Image from TV21 - Gerry Anderson Collectables Pages by Simon Wickes

Shipton Plastics Model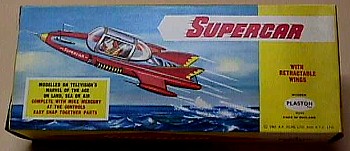 Extra image here from Ebay auction.
Note that the nose cone and the rear aerial are reversed in these images.

Supercar Models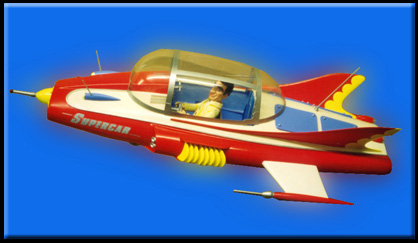 Supercar Model Kits Available from Comet Miniatures
Remco Toy
Supercar: Remco, USA
Image from TV21 - Gerry Anderson Collectables Pages by Simon Wickes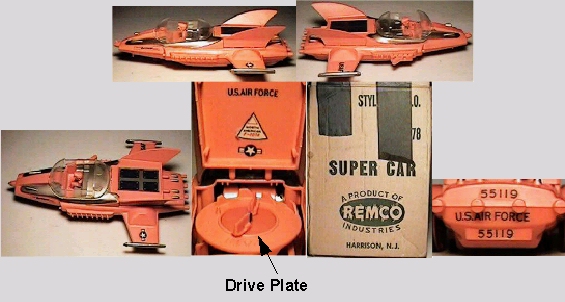 Supercar: Remco, USA, sold by Internet Auction http://komodo.ebay2.com/) in October 1997 for $455.
Image from Dan and Pam Weldon (orion@gloryroad.net)
Other images from Ebay sales: Image 3, Image 4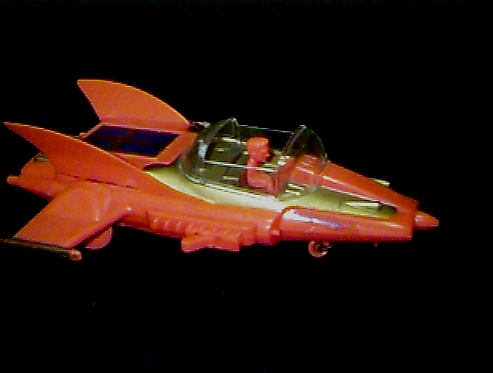 Supercar: Remco, USA
Image from Mark DeSantis

Remco Toys 1963 - Catalog - Approx. 11" x 8 1/2" 14 pages 1963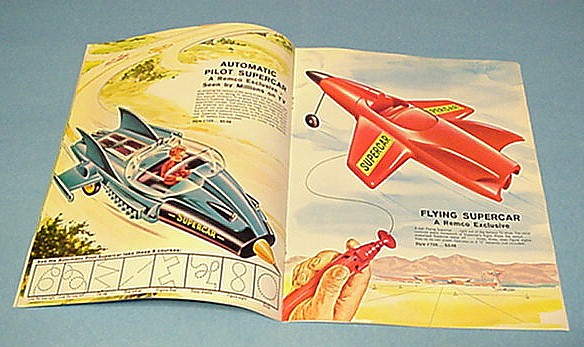 Other images from Ebay sales: Cover


TV Comic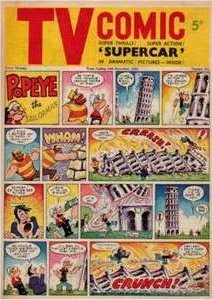 Supercar ran in TV Comic from Issue No:483 to No:667. (March 1961 to Sept. 1964). Sample cover shown is from issue 522. Sample pages show are from issue 662 (in August 1964). Neville Main was a regular on the title, contributing Four Feather Falls and Fireball XL5. Supercar was started by H. Watts followed by Bill Mevin.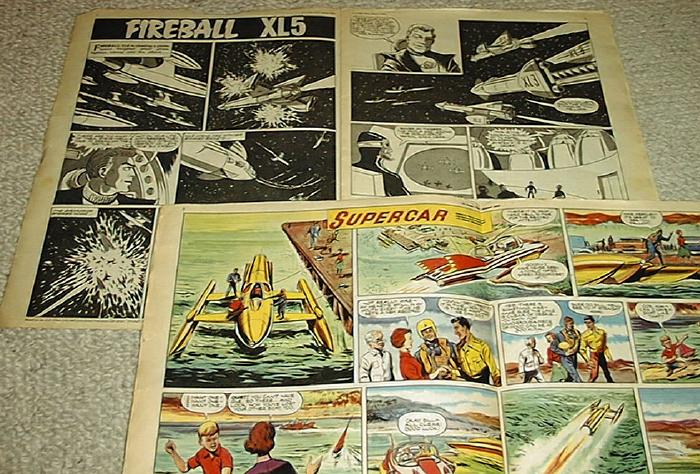 Gold Key Comics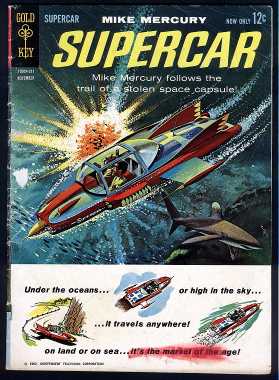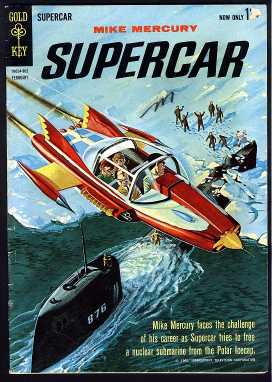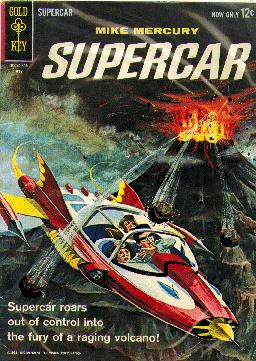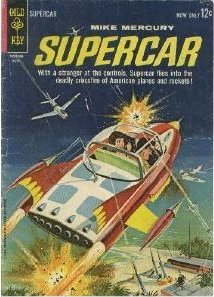 Supercar: Gold Key Comics, USA



Misc!Mayhem Comics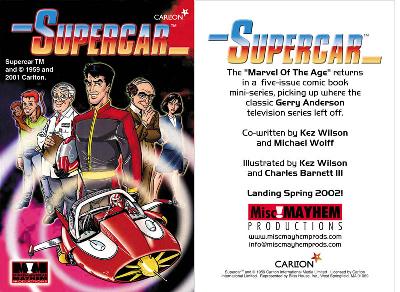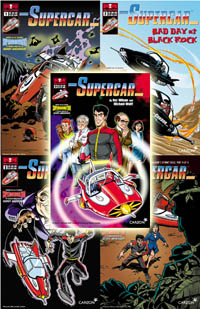 Supercar: Misc!Mayhem Comics, USA



Lunch Box and Thermos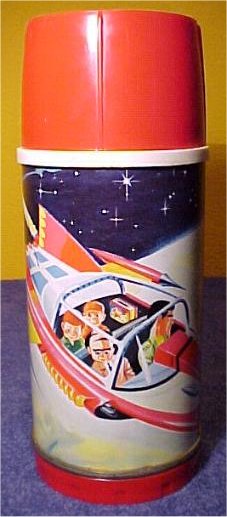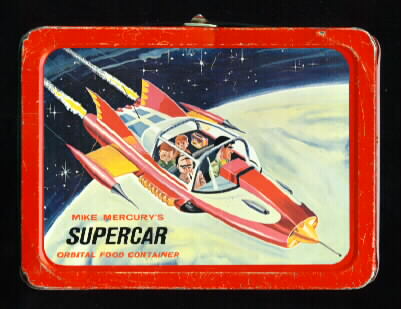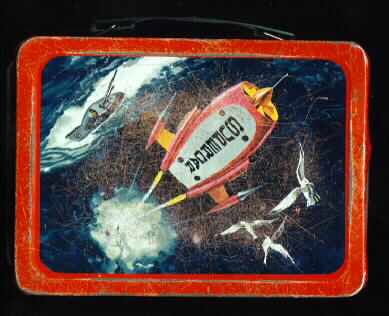 Supercar: Lunchbox and Thermos
Images from Mark DeSantis
Other images from Ebay sales: Multiple angles image


Clock and Money Box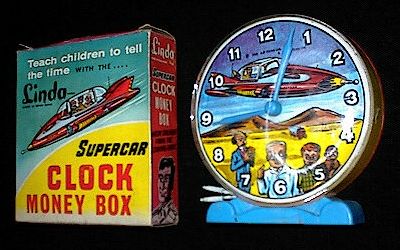 Supercar: Clock and Money Box
Image from Mark DeSantis


Sweet Cigarette Cards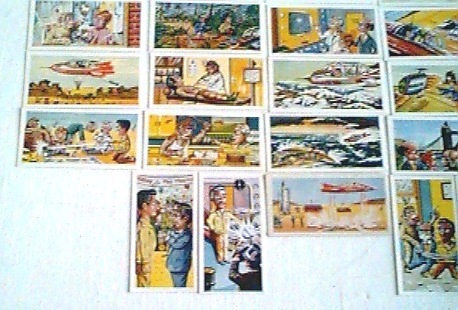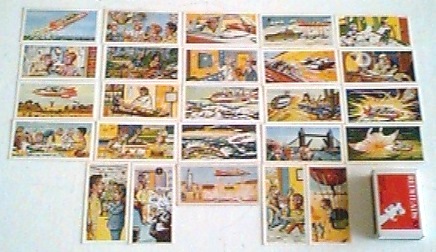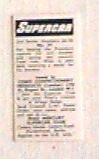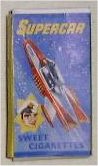 Supercar: Sweet Cigarette Cards
Image from Ebay.com Auction


Paint Book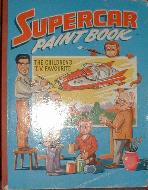 Supercar: Paint Book
Image from Mark DeSantis


Pelham Puppets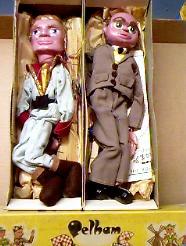 Pelham Puppets - in this case Steve Zodiac of Fireball XL5 and Dr. Beaker of Supercar.


Play Figures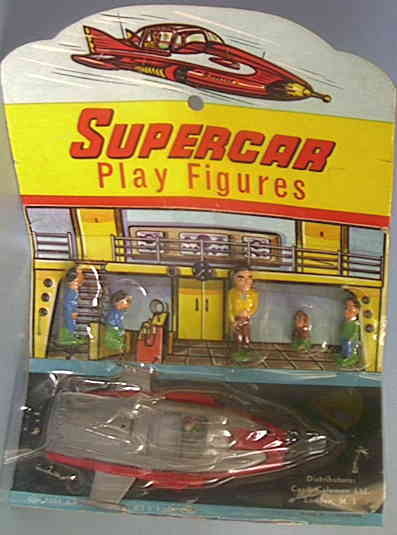 Play Figures.

Intercom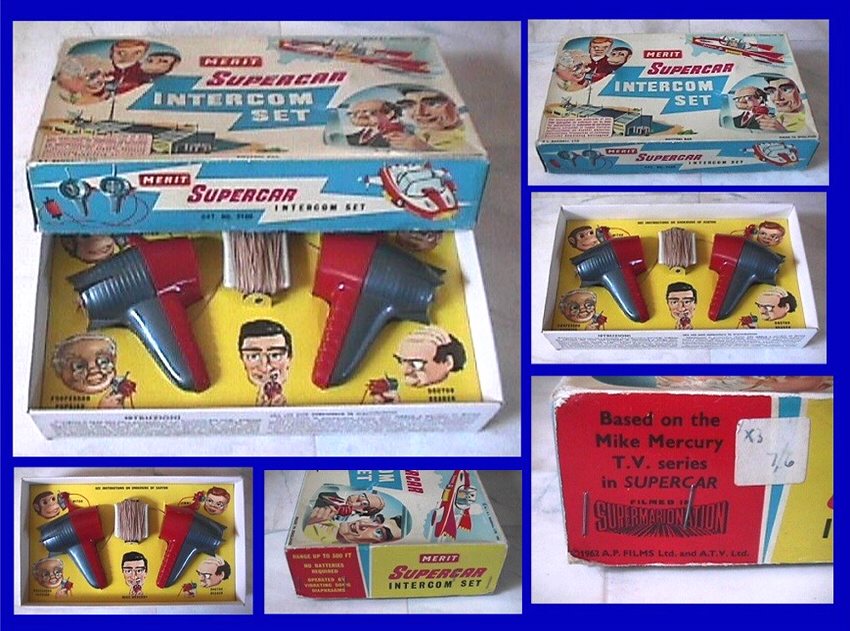 Intercom.

Phonecard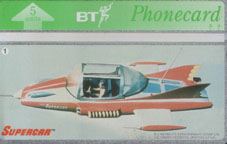 Supercar British Telecom Phone Card
Supercar To The Rescue Game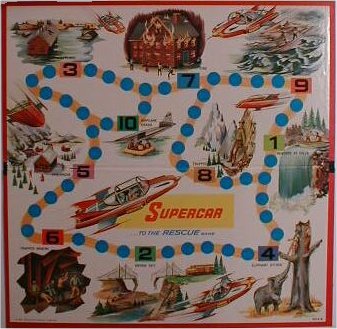 Supercar To The Rescue Game. Milton Bradley Company (MB Games 1962). This is a game for 2-4 players. Players move from one randomly determined rescue scene to another, with the first player on the scene receiving a Supercar token. The player with the most Supercar tokens when all ten rescues have been performed is the winner.
Image and game description from Tony Nardo

Supercar Road Race Game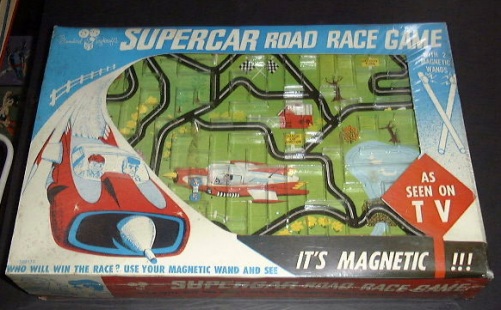 Supercar Road Race Game.

8mm Film - Pirate Plunder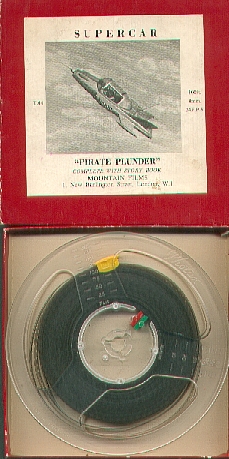 Supercar 8mm Film - Pirate Plunder

Pye Golden Guinea LP
[Image Only (4096x3173)]

Supercar Sculpturecraft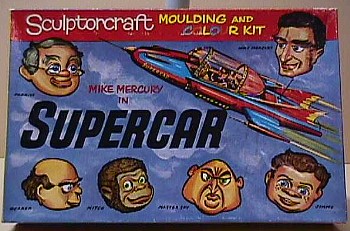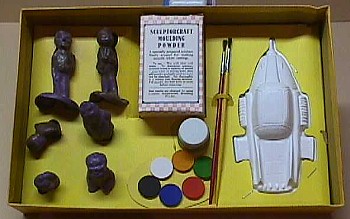 Supercar Sculpturecraft.

Supercar Jigsaw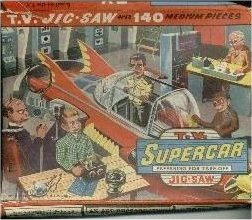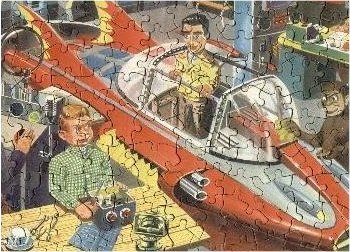 Supercar Jigsaw.


Supercar Jigsaw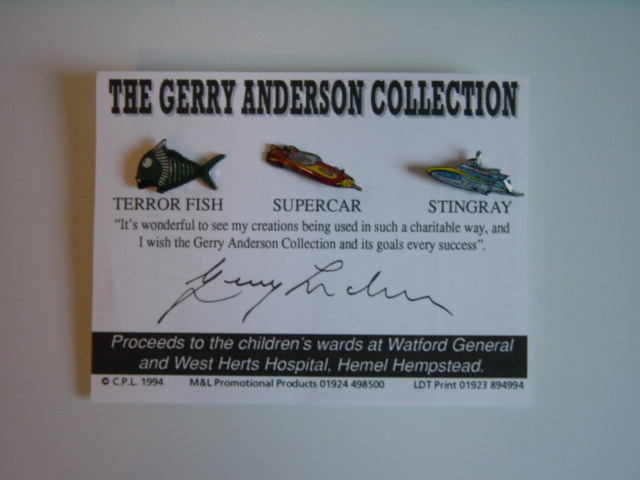 Supercar Enamel Badge - part of a charity item, 1994.


Puppet Heads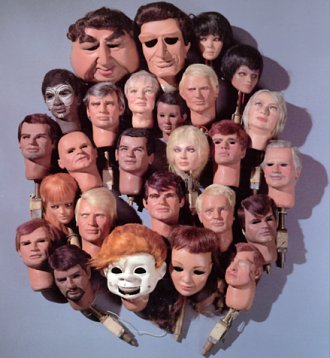 109K JPEG large version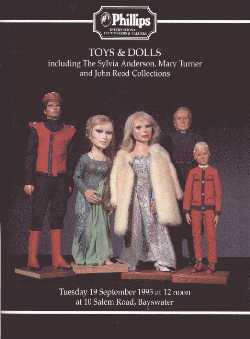 Phillips Auctioneers (Toys and Dolls), 10 Salem Road Bayswater, London W2 4DL, UK. 1995/09/19 10:00 This sale of toys and dolls included the Sylvia Anderson, Mary Turner and John Read Collections of Thunderbirds and other Gerry Anderson Series' Puppets. Supercar lots included in the sale were:
Lot 69: JIMMY GIBSON from 'Supercar' with orange hair and working lip, this head is painted white (G-F, lacks eyes and mechanism) Estimate £250-350
Lot 70: MIKE MERCURY from 'Supercar' with brown hair and working mouth (G, lacks eyes) Estimate £ 300-400 Sold to David Thornhill (who no longer wons it) for £1,250+VAT+Phillips Commission (approx. £1,500 in total
Lot 71: ZARIN from 'Supercar' head painted white, with moving lip (G-F, lacks eyes, wig, mechanism and back of head) Estimate £150-250
Lot 72: MASTERSPY from 'Supercar' with moving mouth and brown hair (G, lacks eyes, back of head and mechanism) £300-500
[Christine Glanville is reputed to have said that it actually was an original Masterspy head that had been modified to produce the character El Hudat who appears in two Episodes of Stingray - "Star in the East" and "Eastern Eclipse"]

Other Auction Lots
Lot 107: TV21 Themes on 7 inch record (G) two Supercar 7 inch records (lacking sleaves) Kine Production Review 'SUPERMARIONATION' booklet and Thunderbirds Supplement (5) £50-70
Lot 111: ZARIN from Supercar unclothed puppet with unpainted head (lacks eyes) and wooden body marked 'ZARIN' £ 300-500
Lot 381:Budgie 272 Supercar in red/silver (G, minimal fatigue, box G-F) £170-200


Documents and Adverts
---
All material on Supercar is copyright by Polygram. This is a fan maintained page intended to promote the shows of Gerry Anderson.

Supercar Home Page