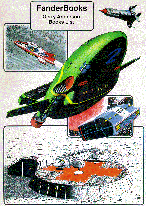 ---
FanderBooks
Gerry Anderson Annuals and Books List
---
---
This is a list of books associated with Gerry Anderson productions. It is rarely the case that any one collector can compile comprehensive lists without significant input from others. So, I would like to solicit input from people interested in the works of Gerry Anderson and collectors to augment the list with a view to publishing an improved version in the future. New books are being published all the time, so clearly the list can only cover those known by the date of its compilation.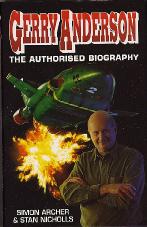 Gerry Anderson biography image from TV Century 21 Site by Simon Wickes
A comprehensive guide to merchandise relating to the works of Gerry Anderson, including details and price guides for the books associated with Gerry Anderson productions is available in ``The Gerry Anderson Memorabilia Guide'' compiled by Dennis W. Nicholson, and published in 1994 by Cooee Concepts Pty. Ltd, P.O. Box 193, Hawksburn, Victoria 3142, Australia. Information on Gerry Anderson related books published can be obtained through the Series' Merchandise Guides published in back issues of the Gerry Anderson Fan Magazines S.I.G. and Century 21. The Fanderson newsletter FAB, dealers lists and discussions with people who supply specific books can reveal other titles.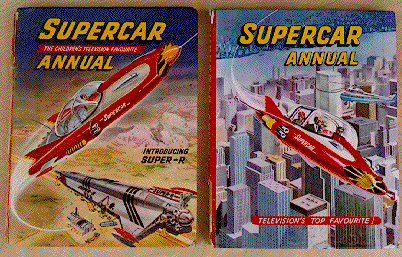 Supercar Annuals image from Austin Tate

Excellent introductions to Gerry Anderson Spin-off Annuals and Novels along with some guidance on prices are available in back issues of Book and Magazine Collector - No. 44 dated November 1987 and No. 91 dated October 1991. Each back issue is available by writing for details to "Diamond Publishing Group Ltd" along with you name and address written clearly in CAPITALS and giving the NUMBERS of the back issues you want to Magazine Editor, Book and Magazine Collector, 43/45 St. Mary's Road, Ealing, London W5 5RQ. I would recommend these for any new collector. The magazine often has a good selection of Anderson related books and other collectables for sale each month - but ring up the day the magazine comes out for the real bargains! A comprehensive list of novels related to British Telefantasy shows (including many of the Anderson shows) is available in the Revised Issue No. 4 of TimeScreen.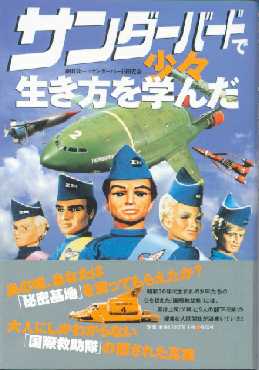 Thunderbirds "tell me how to live" Book from Japan, 1999, image from Toshinori Nikuma.
So, onto the list itself. Firstly, I must say that I am concentrating on books published in the U.K. I include a number of foreign published books and I am happy to build up this list, but I consider it too large a task to aim to have a complete list for foreign publications. I am also excluding the many comics, puzzle books, books accompanying records and special comic format publications. There is sometimes a fine line between some of the fun or games books, magazine specials and special publications. In general I have includes books which include stories where the line is unclear.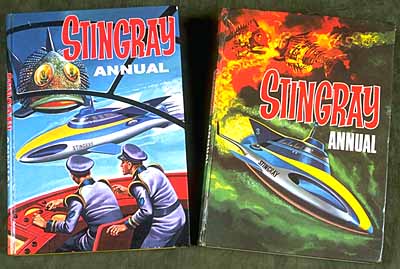 Stingray Annuals image from Stingray Memorabilia Museum by Gordon O'Byrne which contains information on Stingray publications and toys.
In a list like this, authentication of the data is very important. I have added a column to show the initials of the person who has physically checked the information from the book itself. Any entry without initials means that I am relying on information published by others. My thanks to those providing entries to date - their names are on the last page of the list.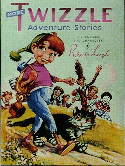 Twizzle book image from Anderson Productions Page by Adam Broom
The Book and Magazine Collector No. 44 article lists hard back versions of the Armada paperbacks published from 1965 to 1969. Their availability is not confirmed by Collins (who now own Armada), or any owners of such books to date, so I have excluded them. An "Angels Annual" and a second Angels Story Book listed in this same article are probably the single Angels Story Book included here.
I would like to solicit your help. If there is any error or omission please let me know. I would especially like to invite those of you owning books to verify those lines in the list which do not have a "check by" entry by writing to supply the correct information and stating that they are willing to have their initials in the check column. Please take special care to ensure you give me exact details of any year printed on the cover and separately and most importantly the &copy year normally inside the book. Some Gerry Anderson publications have two copyright messages something like &copy 1979 World Distributors &copy 1978 ITC. If so, please give me details of the full copyright line so I can ensure an accurate list. I have found some inconsistencies in other people's quoted publication years due to this. If roman numerals are used (such as &copy MCMLXXXIV) and you are not sure of the translation, write them out for me. A brief description of the cover of a book not on this list could also be helpful (e.g. background colour, wording, etc).
E-mail me a a.tate@ed.ac.uk or write to me c/o AIAI, University of Edinburgh, 80 South Bridge, Edinburgh EH1 1HN, UK. Happy FanderBook Collecting.
Notes on Tables
dagger - Annual Year is given explicitly on the book cover or spine.

double dagger - In these cases copyright is given as &copy xxxx &copy ITC or Anderson/Burr yyyy where xxxx and yyyy are different years. Copyright xxxx is quoted.

Checks By

KA        Keith Ansell               Birmingham, England
JB        Jeremy Briggs              South Queensferry, West Lothian, Scotland
SB        Stephen Brown              Saxmundham, Suffolk, England
SD        Stuart Drummond            Melksham, Wilts, England
AF        Angelo Finamore            Venezia-Mestre, Italy
MF        Marc Frattasio             Boston, Massachusetts, USA
NK        Nobuyuki Kawashima         Gumma, Japan
LH        Lee Holmes                 Kings Lynn, Norfolk, England
RH        Rosemary Haynes            Hoddesdon, Herts, England
PH        Peter Hemingway            Bristol, England
HI        Hiroshi Ishizuka           Niigata, Japan
TJ        Tony Johnston              Sidcup, Kent, England
PM        Paolo Malaguti             Legnano, Italy
TN        Toshinori Nikuma           Hyogo, Japan
KO        Kazuhiko Ohmura            Miyazaki, Japan
DO        Douglas Orlowski           Canada
JO        Jeremy Owens               Powys, Wales
JP        John Palmer                Dudley, West Midlands, England
MR        Marc Rhodes-Taylor         Swindon, Wilts, England
AS        Andrew Spurgin             Cambridge, England
MS        Mark Spicer                Slough, Berks, England
SS        Stuart Shiel               Bishop Auckland, Co. Durham, England
SW        Simon Wickes               Burlington, NJ, USA
AT        Austin Tate                Edinburgh, Scotland
DW        David Walker               Scunthorpe, South Humberside
AZ        Angelo Zumbo               Roma, Italy
You       Your name could appear here in a future list!  Please help.

Thanks also to

          Sue Curtis                 London, England
          Simeon Dawes               Catford, London, England
          Pat Gardner                Lancing, West Sussex, England
          Jason Hutchinson           Teynham, Kent, England
          Steve Rogers               Beccles, Suffolk, England
          Gary Siddall               Nottingham , England

for confirming details which I have subsequently been able to check personally.

I am grateful to Paul Richardson of Windermere, Cumbria for providing graphic artwork as the cover to the FanderBooks list.

Note: the rendering of the name of Japanese publishers in an English form is based on pronunciation and may vary. Some equivalences are noted here:
Futaba Sya, Futabasha
Byakuya Syobo, Byakuyasyobo
Syougaku Kan, Syougakukan
Tokuma Syoten, Tokumasyoten
Rippu Syobo, Rippusyobo
Hayakawa Syobo, Hayakawasyobo
Take Syobo, Takesyobo
Kadokawa Syoten, Kaddokawasyoten
Dainihon Kaiga, Dainihonkaiga
Koudan Sya, Koudansha
---
Other sources of Gerry Anderson related book information can be found at:
---
©1992-2008, Austin Tate. Comments or suggestions for improvement on this page to a.tate@ed.ac.uk