CoSAR-TS Introduction
The Coalition Search and Rescue Task Support (CoSAR-TS) demo showcases intelligent agents and artificial intelligence planning systems working over a computational grid in which different policies govern who can do what. The agents use semantic web services to dynamically discover medical information and to find local rescue resources.

The Objective is to study and develop a demonstrator for Task Support in a realistic and highly dynamic Coalition Search and Rescue scenario. Research at AIAI on I-X Task Support is linked with IHMC work on KAoS Agent Domain and Policy Management concepts. OWL representations, and OWL-S descriptions of agents and services are utilized. Feedback to the OWL-S and Semantic Web Services development community is being provided.

COSAR-TS is a DARPA DAML-program project to provide advanced capabilities linking models of organizational structures, policies, and doctrines with intelligent task support software. The work enables software and human agents to cooperate using a common shared intelligible model of tasks, processes, organizational structure, capabilities, agent status and presence, secure communication and access policies, authorities, and obligations. Preexisting ontologies (such as those provided in the DAML/OWL and DAML-S/OWL-S work) and tools (such as the CMU Matchmaker, CMU Notification Agent and BBN SONAT Elements of National Power Knowledge Base) are reused within the work - showing the value of semantically represented and shared models. The technology is demonstrated in the context of a coalition search and rescue scenario.
CoSAR-TS Intelligent Systems Demonstrator
Document and Posters:
Tate, A., Dalton, J., Bradshaw, J.M. and Uszok, A. (2004) Intelligent Agents for Coalition Search and Rescue Task Support, Intelligent Systems Demonstrator, Nineteenth National Conference on Artificial Intelligence (AAAI-2004), San Jose, California, USA, July 2004. [MS Word Format ] [PDF Format ] [Demo Details ]
Poster 1 - [MS PowerPoint Format (A0) ] [PDF Format (A4) ]
Poster 2 - [MS PowerPoint Format (A0) ] [PDF Format (A4) ]
Demonstration Storyboard/Screen Video:
Project Documentation
AIAI Technology
IHMC Technology
CoSAR-TS Project Members
The project involves:
AIAI, University of Edinburgh

Austin Tate (PI)
Jeff Dalton
Stuart Aitken
Associated Researcher: Stephen Potter
Associated Students: Natasha Lino, Clauirton Siebra

IHMC, University of West Florida

Jeff Bradshaw (Co-PI)
Andrzej Uszok
Associated Researchers: Renia Jeffers, Matt Johnson, Shriniwas Kulkarni, Niranjan Suri
Associated Students: Paul Chang

BBN Technologies

Mike Dean
Associated Researchers: Mark Wilcomb, Dave Rager

CMU

Fabien Gandon
Massimo Paolucci
Norman Sadeh
Katia Sycara

SPAWAR

Jim Burdell (SAR Scenario specialist)

AFRL

Mark Gorniak (Project Monitor)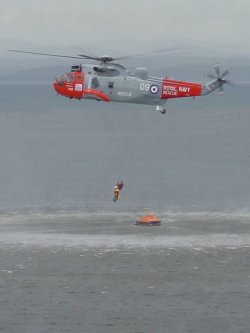 Sea Rescue: UK Search and Rescue of downed airmen by a Sea King helicopter [Photo by Austin Tate]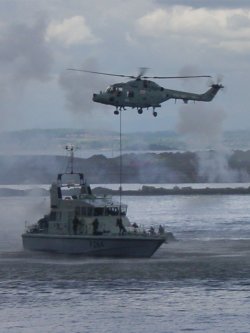 Sea Rescue: UK Combat Rescue at Sea by a Lynx helicopter over a Royal Navy P2000 fast patrol boat [Photo by Austin Tate]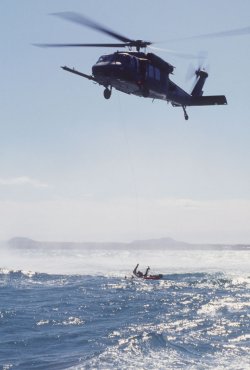 Sea Rescue: A US HH-60G Pavehawk helicopter from the 56th Rescue Squadron, Keflavik NAS, Iceland, performs a rescue of a simulated downed airman off the coast of Iceland. During the rescue of the airman, a pararescueman jumps from the helicopter to help the survivor into the stretcher so he may be hoisted up. [U.S. Air Force photo by Senior Amn. Richard Kaminsky, from U.S. Air Force Photo Gallery]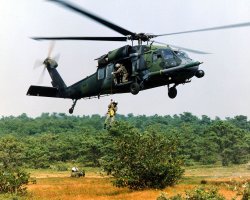 Land Rescue: The US HH-60G's primary wartime mission is combat search and rescue, infiltration, exfiltration and resupply of special operations forces in day, night or marginal weather conditions. [US Air Force Photo Gallery]