| | |
| --- | --- |
| Project AIBO - Robotic Task Achieving Team | |
Contact: aibo@i-x.info

Background Technologies:

Project Team Members:

Researchers: Austin Tate, Richard Wheeler, Gerhard Wickler, Barbara Webb, Bob Fisher, Jeff Dalton, Diana Sisu, Stephen Potter, Tim O'Shea, Donna Bolland, ...
Students: Dane Alexander, Julien Roux (Heriot Watt University), Eleanor Sim

Documents and Instructions:

Links:
Introduction
A proposed long term project to explore Artificial Intelligence technology to support team work between human and robotic systems working in a cooperative and safety conscious way in the home or the workplace. The project is aimed at being a source of interesting and relevant student projects in Artificial Intelligence, Robotics and Informatics at the University of Edinburgh. It also will be used to give interesting exhibits for open days, school visits and to entertain visitors.
Locations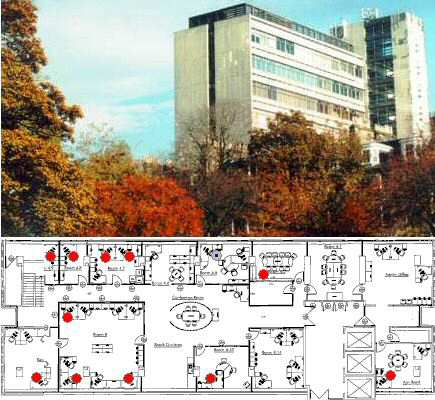 Appleton Tower is the home of the Centre for Intelligent Systems and their Applications (CISA) and its Artificial Intelligence Applications Institute (AIAI at the University of Edinburgh). These are AI research groups in the School of Informatics. Level 4 of the Appleton Tower is used for the demonstration systems and as a testbed.

The second experimental and demonstration setup is located within the Institute for Perception, Action and Behaviour (IPAB) which houses the Edinburgh robotics group within the Kings Buildings Campus of the University of Edinburgh.

One robot is a roving amabassador for the School of Informatics, and be used at open days, schools viists, etc.

A WiFi network is used for communications. The Appleton Tower access point is centered on the East half of level 4 and with SSID "AIAI" and is set for WEP (the access code is available from Austin Tate). This uses Channel 03 (the AIAI experimental WiFi frequency). IPAB will use a suitable networking arrangement.
AI Technology
The technology will include multi-agent systems, teamwork, semantic web use, human and robot agent presence and status notification, intelligent planning, coordination, task execution and monitoring, and task-achieving behaviours. Robotic motion, vision and sensor processing aspects will be used. The human and robotic agents will exchange task and planning information in the form of the <I-N-C-A> ontology - a shared model for plans, processes, and process products (the results of carrying out tasks). Robotic resource availability, and human working patterns will have to be accommodated.

Related projects in other parts of Informatics at Edinburgh will be encouraged to explore other aspects and to replicate the experimental and demonstration environment elsewhere.
Robots
Sony AIBOs are used since they have core capabilities required to experiment with more advanced AI planning and team behaviour aspects. Later generations of entertainment, personal aid and rescue robots could be incorporated as the project develops.
Communications
Communications will use e-mail and Jabber XML Instant Messaging for a mixture of asynchronous and (anticipated) synchronous communications. Communications behaviours will have to adapt to this environment.

A wireless LAN will connect the team members at each site, but will have limited reach and not cover the whole of the patrol area. This will sometimes necessitate communications via team members who act as communications relays and way points. This may have to be planned in emergency and important task situations. Where direct WiFi communications is not available, the team members may use sound, visual gestures, etc., sometime against pre-planned coded signals related to the tasks the team are sharing.

Work is anticipated to link to "Speckled Computers". These are small scale, low power, wireless connected devices that can self configure into networks, especially when there are dynbamically moving nodes. The speckled computers will provide sensor grid, location and message relay capabilities.
Meet the Team
Prince (AIBO004) (b. 6-Dec-2004)
Robot type: Sony AIBO ERS-7M2/W
Roles: Principal's Office Duties, Visitor Interaction, Open Days

Bobby (AIBO001) (b. 12-Oct-2004)
Robot type: Sony AIBO ERS-7/W (M3 Upgrade SP2)
Roles: Schools Outings, Open Days, Roving Informatics Ambassadog
View my Web Page (on AIAI WiFi Net only)

Pixel (AIBO002) (b. 6-Dec-2004)
Robot type: Sony AIBO ERS-7M2/W (M3 Upgrade SP2)
Roles: AIAI Rescue Dog; find; search; room occupancy monitor.
View my Web Page (on AIAI WiFi Net only), [External],

Kilobyte ("Kila") (AIBO003) (b. 6-Dec-2004)
Robot type: Sony AIBO ERS-7M2/B (M3 Upgrade SP2)
Roles: AIAI Rescue Dog; find; search; room occupancy monitor.
View my Web Page (on AIAI WiFi Net only)

???? (AIBO006) (b. 14-Dec-2004)
Robot type: Sony AIBO ERS-7M2/W
Roles: IPAB Dog.

???? (AIBO005) (b. 6-Dec-2004)
Robot type: Sony AIBO ERS-7M2/B
Roles: IPAB Dog.
Austin Tate
Organisational structures; planning; task support; collaboration.
Roles: Ideas

Richard Wheeler
Outreach
Roles: PR; resources; project partners; exploitation of the results.

Gerhard Wickler
AI Planning and Robot Systems Interfacing
Roles: AI planning

Barbara Webb
Robot behaviours, vision
Roles: robotics specialist; schools outreach; open day demonstrations

Diana Sisu
Informatics publicity
Roles: Schools Liaison, Open Days, Publicity

Stephen Potter
Communications, web view, command services
Roles: Dog handler and instructor

Bob Fisher
Robot vision and sensing
Roles: robotics specialist

Jeff Dalton
I-X and <I-N-C-A> systems
Roles: I-X systems designer

Donna Bolland
Training, learning and skills
Roles: Social and Trainer

Dane Alexander
Roles: MSc Student Project

Eleanor Sim
Roles: PhD Student

You
Actually make it happen!
Roles: You name it?

Choose an Icon:
---
Sample Robotics Behaviours and Projects
Title
Description
Researcher/Student
Dates
Results
Alpha - The Lead Dog
Robot team leader; coordination; Internet human interaction; information provider to robotic team; pass along communications facilitator; team status and location reporting; team safety and health checks. Seek to maintain current status and presence information relating to people and team robots on the floor level and whether unknown visitors are on the floor. Build the information base on a web area, and use active e-mail or instant messaging alerts, sounds, and gestures to attract attention to possible problems.
Results
Pixel - The Rescue Dog
Move around rooms on floor level signalling unobtrusively and seeking to maintain status of those willing to communicate. Be ready to more actively signal and obtain status in emergency situations or when floor is indicated as evacuate.
Results
Digit - The Advanced Rescue Dog
Advanced, experimental and remote agent version of Pixel.
Results
Kilobyte - The Guard Dog
Cover main door area. Photograph any person entering and try best to get it (later via Alpha for filtering) to central command site. Signal any person entering. Use gestures or agreed codes, but later other technologies, for progressively better recognition facilities to identify person or identify as a stranger. Communicate status by any possible route to Alpha or other team members. Seek to maintain status of the person entering as on the floor level or not. Follow intruders if possible and continue image taking and transmission.
Results
Terabyte - The Advanced Guard Dog
Advanced, experimental and remote agent version of Kilobyte.
Results
I-X Central Commander
Desktop I-X systems to maintain contact with human and robotic members of the team, mostly in cooperation with Alpha, to initiate, control and monotor tasks, and to achieve a safe, secure and fun environment without being intrusive to occupants of the building.
Results
I-X Remote Commander
Palm Handheld I-X systems to maintain contact with one local team cluster, mostly in cooperation with a lead robot (e.g., Alpha), to coordinate tasking.
Results
I-X On-board <I-N-C-A> Agent Controller
Can support tasking and reporting using the <I-N-C-A> Ontology to I-X systems using a mixture of communications strategies.
Results
Linking an HTN Planner to a Robot Controller
Using I-X, URBI and Webots
Dane Alexander
2006
Results
AIBO Security and Rescue Task Library
A library of lower level and some high level task-achieving behaviours to assist in meeting the objectives of the project.
Results
Security and Rescue Environment Simulator
A simulator of the environment and robotic team members to assist in meeting the objectives of the project.
Results
Night Guard
A set of behaviors for protection of the building at night, possibly in the dark.
Results
Egress Aid
A set of behaviours to act as an aid for staff or students with mobility problems in a fire alarm situation. To act as a relay of their status when at the egress point and awaiting firemen escape.
Results
Personal Companion
A set of behaviours to act as a companion for an individual, and which can act as friend and assistant or turn into an emergency reponse aid on necessity, helping their companion in ways that are personalised to their needs, and with knowledge of their individual, family and organisational context.
Results
Pursuit Ability of a Robot Pet
To find a form of prey to chase and eventually catch. To investigate how the robot achieves behaviour selection, based on stimuli from the environment.
Julien Roux
Heriot Watt University
2005
Results
---
© 2004-6, Web site materials are the copyright of the individual contributors and organizations they belong to. Use on this public web site for open access is approved. Other permitted use of the materials is not implied. Page maintained by a.tate@ed.ac.uk, Last updated: Fri Jul 9 15:46:22 2021
Supported by the AIAI FEEDAI Programme
Supported by the School of Informatics Schools Liaison Programme