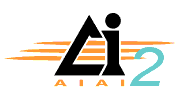 AIAI2: AIAI's Office in Second Life
---
The Artificial Intelligence Applications Institute (
AIAI
) in the
School of Informatics
at the
University of Edinburgh
has established an office in
Second Life
.
This is being used to explore persistent task-supporting intelligent agents, AI applications, AI technology transfer, collaborative working in virtual community sims, and to have a bit of fun. Watch this space for more details as the project continues.
A custom three zone building for the Institute has been designed, constructed and installed by Attim Hokkigai of Hokkigai Inc. This allows for:
A front office and reception area accessible to all
A limited seat virtual presentation room
A lounge, chill out and chat area
If you are interested contact
Ai Austin
, AIAI2 Director.
---
Some Useful links:
---