Planning Initiative
SPAR Core Group
Report for Meeting 1
PRC, Arlington, VA - 23/24-Sep-97
Core Group Members: Todd Carrico, Karen Myers, Bill Swartout, Austin Tate
Government Representative: Tom Garvey
Support: Adam Pease, Steve Polyak
Objectives defined by Tom Garvey, Doug Dyer, Nort Fowler and Rick Metzger
The original objectives as stated before the meeting are reported here. They were introduced by Tom Garvey and discussed further.
The balance of generic versus specific target program needs was discussed. The effort is meant to be generic but have obvious mapping to real application needs - not requiring a Ph.D in AI planning to interpret its use.
It was also stated that there was a need to promote the use of the shared representation. This would be done by DARPA and Rome Lab. Program Managers encouraging its use where apppropriate and requiring feedback where it was inappropriate or found lacking for projects they had responsibility for. And also by technical people working in the field of plan representations to promote its uptake by helping in its early adoption and extension to real scenarios and applications.
Remit
The following remit was adopted.
To produce the specification of a representation for plans, processes and activities for use by technology-base and applications projects in DARPA, Rome Laboratory and beyond.
To seek input from the technical and user communities to influence the specification.
To communicate and promote the specification to its intended audience.
Name of Project
Suggestions were:
ARPI Plan Representation - APR
Planning Initiative Plan Representation - PIPR (pronounced "piper")
Shared Plan Representation - SPR
Shared Planning and Activity Representation - SPAR
Shared Planning, Execution and Activity Representation - SPEAR
SPAR was chosen. It was confirmed that we wanted Planning in the title rather than Plan to reflect the broader desire to represent planning processes as well as the results of planning. Activity is appropriate as the desire is to represent domain models as well as plans for those domains.
| | | |
| --- | --- | --- |
| 24-Sep-97 | First Steering Group Meeting, Washington D.C. SPAR Version 0.0 | |
| 22-Oct-97 | Briefing to DARPA ISO Offsite meeting by TC | |
| 31-Oct-97 | SPAR RFC version 0.1 (outline) | 14-Nov-97 |
| 4-Nov-97 | Briefing on Progress to ARPI Workshop, San Francisco | |
| 5-Nov-97 | Meeting 2: Session for Specialism and User Panel Members' Inputs during ARPI Workshop, San Francisco | |
| 6-Nov-97 | Meeting 3: Core Group, San Francisco | |
| 30-Nov-97 | SPAR RFC version 0.2 (specification & issues) | 31-Jan-98 |
| 28-Feb-98 | SPAR RFC version 0.3 (specification & issues) | 30-Apr-98 |
| Spring-98 | Briefing on Progress to ARPI Workshop, Location TBD | |
| 31-May-98 | SPAR version 1.0 | |
| afterwards | Promote and advise on use of the specification. Refinement of specification. Continue to address outstanding issues. | |
Process
Proposal - from Todd Carrico on 29-Aug-97
Merge existing plan ontology work into a good, solid core representation. Aim to present this at November ARPI Workshop.
Apply that solid core to the creation of a fairly complex real world instantiation:

Todd Carrico suggests AITS WarPlan.
Austin Tate suggests also JFACC Plan Representation.
Steve Smith suggests also ALP/Alpine Plan/Schedule Representation.

Take lessons learned in 2 to refine 1
Extend 3 to consider some of the necessary outliers - like different representations of uncertainty or alternate representations of actions for specific domains. Only those REQUIRED by some group which could not be satisfied by the work from 1 and 3. This should be an empty set if we do our job right.
Proposal - from Austin Tate on 28-Aug-97
Define core meta-model (small). Define extensions mechanism. Define how other non plan/activity models relate to the core. Draw on work of KRSL-Plans (Oct 94),OMWG CPR, PIF 1.1, NIST PSL, etc. Semantic foundation with formal properties.
Establish a requirements and sample scenarios document. Establish a set of specific scenarios or samples that must be encodable. Coordinated by Todd Carrico with assistance from Adam Pease using input from user requirements panel. Could usefully draw on work on NIST PSL requirements document.
Special technical representation and reasoning interests accommodated. Inputs from Specialism Experts Panel - coordinated by Austin Tate with assistance from Steve Polyak.
Consider sample extensions as needed by specific ARPI target and technical communities to verify ARPI CPR suitability.
Consider Presentations - specific encodings or styles for communicating the CPR. Assumptions of those included are:

OO/GFP?
Grammar based verb/NP/Qualifiers
Logic/Constraints

Translatability checks with specific specialists/systems. Assumptions on those to be checked for ARPI are:

Austin Tate suggested:

LOOM
ACT/SIPE
O-Plan TF
OZONE
ADL
PIF/NIST PSL
IDEON (ISTI)

Adam Pease suggested:

KIF
CycL/MELD
Kestrel Slang/Specware

Communicate progress and results to ARPI and DARPA applications programs throughout the whole process. Input from and critiques sought from Panels.
Recommendation
A process based on Todd Carrico's suggestion was adopted with the review against applications probems being done in parallel with reviews by the Specialism Experts Panel and the Formalisation Review Panel.

The process adopted is documented here.
Participants
Suggested participants are listed below. * next to a person's name means that they had confirmed that they will be involved if invited.
Core Group

* Todd Carrico (with support from Adam Pease)
* Karen Myers
* Bill Swartout
* Austin Tate (with support from Steve Polyak)
* Tom Garvey (Government Representative)
Nominees for User Requirements Panel (Coordination via Todd Carrico/Adam Pease)
Todd Carrico proposed:

AITS "War Plan" representative

Austin Tate proposed:

Col. "Buster" McCrabb's representative
JFACC Plan Schema representative

Steve Smith proposed:

ALP/Alpine representative
Nominees for Specialism Experts Panel (Coordination via Austin Tate/Steve Polyak)
Tom Garvey, Doug Dyer and Nort Fowler proposed:

Daphne Koller, Stanford University, for uncertainty and belief
Jon Stillman, General Electric, for temporal aspects
* Manuela Veloso, CMU, for case-based plans
* David Etherington, CIRL, University of Oregon, for scheduling
* Larry Lafferty for performance issues
* Adam Pease, Teknowledge, for relationship to OMWG Core Plan Representation
* James Allen, Rochester University, for multi-modal user dialogue and planning in temporally complex worlds with uncertainty

Austin Tate proposed:

* Jintae Lee, University of Hawaii, for relationship to PIF Working Group
* Steve Polyak, University of Edinburgh, for relationship to NIST PSL
* Pat Hayes, University of West Florida, for formalization, semantics and temporal models
* Chris Menzel, KBSI, for formalization, semantics and IDEF
* Micheal Gruninger, University of Toronto, for formalization, semantics and TOVE ontology
Jon Doyle, MIT, for Problem Solving Methods representation.
* Darrell Woelk, MCC, for collaborative process management

David Etherington proposed:

* Steve Smith, CMU, for constraint-based scheduling
* Brian Drabble, CIRL, University of Oregon, for workflow,
Recommendation
It was agreed to form three panels to seek input to the SPAR work, to review drafts of the specification, and to provide a list of issues to address in SPAR:
User Requirements Panel
Specialism Experts Panel
Formalization Review Panel
Denise Draper of Rockwell will be invited to replace the suggestion of Daphne Koller for the uncertainty specialism. It was thought that James Allen's coverage of temporal aspects would compensate for Jon Stillman not being able to be involved. Some adjustment of the proposed coverage areas for individuals were suggested and would be raised with the people involved.

The up-to-date list of participants on each panel is here. The charge to panel members is listed here.
---
Information Gathering
On-line web resources had been prepared in advance. The lastest copy is here. The information gathering session allowed the core group to come up to speed in a range of relevant areas and to ask questions as they were covered.
Attempt at SPAR 0.0
An initial SPAR model version 0.0 was created using the common elements from the ARPI Plan Ontology Constructor Group (POCG) work on KRSL-Plans (20-Sep-96 version), PIF 1.1, and recent discussions on NIST PSL. Details were added using experience from SRI's ACT, the Edinburgh <I-N-OVA> constraint model of activity and O-Plan TF; the CMU OZONE scheduling ontology; OMWG's CPR version 2 and recent experience of applying it to the JFACC C2 Schema requirements; and USC/ISI work on grammars to describe actions for the JFACC domain.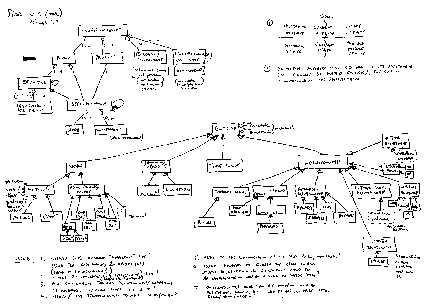 A number of immediate points were made that needed change to create an initial model. These changes have been made in version 0.0a which will act as the starting point for the work of the Core Group.
Outline SPAR Report
The following structure was adopted for the SPAR report:
Introduction [AT]
History [AT,AP]
Process/Schedule/Tasks [AT]
Requirements [SP]
The Product

Case frame [AP]
Ontology [AT] (diagram - [AP])
Object model [AP,TC]
Language [BS]
Clarifications and discussion [KM]

Design Issues [KM]

User Requirements Panel issues [AP,TC]
Specialism Experts Panel issues [SP,AT]
Formalization Review Panel issues [SP,AT]

Conclusions [AT]
Acknowledgements [AT]
References [AT]
Appendices

Language BNF [BS]
CORBA IDL [AP]
Java Reference Implementation - Java Code on disk [AP]
Formal Axioms [KM]
Points of contact:
Briefings [TC]
Document [AT,SP]
Web [AT,SP]
Next Actions and Meetings
AT would prepare the meeting report, panel remit and participants lists.

TC would coordinate the creation of a SPAR briefing, initially to be given by TC at the DARPA ISO Offsite meeting on 22-Oct-97. This would then be revised and extended to become the 1 hour briefing to ARPI at the San Francisco workshp on 4/6-Nov-97.

AT would begin the SPAR document and seek input from others for their sections. The publication date is 31-Oct-97. However, it was recognised that the availability of a draft to panel members a week earlier would be valuable to make productive use of the ARPI San Francisco workshop opportunity.

The next meeting will be a working session during the ARPI Workshop in San Francisco on 4/6-Nov-97. It is intended that a small number of people from the Panels (probably from the Specialism Experts Panel) would be invited to give immediate reactions to the presentations.

The following meeting is planned for the afternoon of 6-Nov-97 following the ARPI Workshop in San Diego. AT will liaise with Tina Neff at PRC to make arrangements for a meeting room at the workshop hotel in Downtown San Francisco.

Page maintained by Austin Tate (a.tate@ed.ac.uk), Last updated: Mon Nov 17 11:00:39 1997
Please make contact if you have any comments on these pages or the SPAR Project.