Planning Initiative
Shared Planning and Activity Representation - SPAR
Previous Work
A range of web resources for work within and beyond ARPI that relates to a common plan, activity or process representation is available at here. This includes the ARPI work on KRSL 2.0.2, KRSL-Plans and within the Plan Ontology Construction Group.
Plan Ontology Construction Group
A document written on 3-Jul-96 by Austin Tate to provide input to ARPI work on shared plan representations within the ARPI ISAT Initiative Support project is available at http://www.aiai.ed.ac.uk/~arpi/ACPT/ontology-c2.html. This includes the following context for plan, activity and process representations in ARPI and the JFACC Air Campaign Planning application.
There are three types of plan representation or model we can draw on, and they are related.
At the May 1996 Annual Workshop of the DARPA/Rome Laboratory Planning Initiative (ARPI) in Edinburgh, the ARPI Plan Ontology Construction Group (POCG) defined a framework for developing the various terminology bases for Air Campaign Planning work in ARPI. The model is as follows: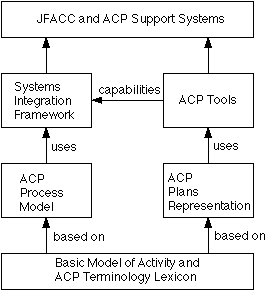 ARPI SWAT Team A Report - 1994
ARPI SWAT Team A spoke with participants in ARPI to analyse the successes and failures in phases 1 and 2 of ARPI. In its report in 1994 it said:
In the planning initiative the common plan representation used to allow for interworking between individual projects should receive much more attention. The needs for the divergence of KRSL, the IFD-3 Common Plan Representation and plan representations used on individual projects should be the subject of analysis and community feedback as an area of central research concern. The community should see progress on defining a shared definition of planning and scheduling products as its aim.
Comments elicited by SWAT Team A from ARPI participants that related to KRSL 2.0.2 and the efforts on an ARPI Common Plan Representation were:
under designed and not clearly aligned to a clear set of objectives.
ontological basis is ad hoc and not related to work elsewhere within ARPA, etc.
constrained by need to support IFD-2.
KRSL/CPR divergence to meet project needs.
was useful to snapshot the areas of agreement/disagreement in the planning community at the time it was created.
useful as a lowest common denominator input/output aid for early demonstrations of large grain size integration.

Page maintained by Austin Tate (a.tate@ed.ac.uk), Last updated: Fri Apr 28 14:19:28 2000