KRSL Plans Working Group - Plans and Activities
DRAFT: 20-Sep-96
The Plan Ontology Construction Group of ARPI is seeking to define a generic ontology of plans and activitiess. An earlier draft was arrived at following discussions in late 1994 and early 1995. The result of this work was the Draft KRSL-Plans ontology dated 2-Feb-95.
New work, involving a larger group, is now taking place to redefine this ontology and to seek a larger group consensus on its contents. The following definitions are the current draft of this ontology.
---
Level 1: Overall Framework
A PLAN is a SPECIFICATION of ACTIVITY to meet one or more OBJECTIVES.
A SPECIFICATION of ACTIVITY denotes or describes one or more ACTIVITIES.
An ACTIVITY may change the STATES-OF-AFFAIRS.
STATES-OF-AFFAIRS is something that can be evaluated as holding or not.
An AGENT can perform ACTIVITIES and/or hold OBJECTIVES.
An OBJECTIVE may have [one or more] EVALUATION-CRITERIA.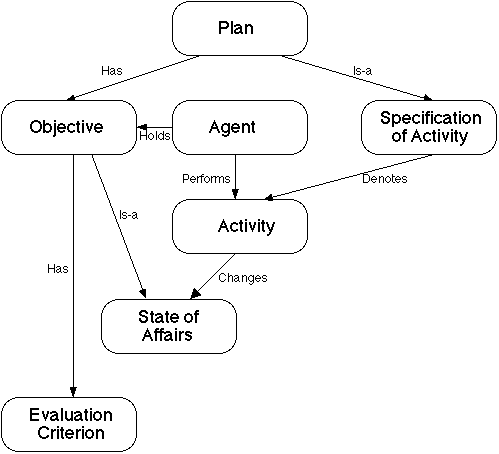 Level 1 Issues Remaining
a worry about the need for or way in which to include "in the domain" or "in the model" in the definitions. An earlier version (2-Feb-95) of the definitions used terms "world" and "model" in a number of places. The intention is an interpretation of the world as "the domain in which activity takes place". The definitions imply that we ave separation of the domain in which activities take place and the specification of activities in that domain.

Issue being considered by Jon Doyle and Mike Uschold.

a worry that we may wish to have a range of uses states-of-affairs and that there is no detailed definition for this yet. Current level 1 definition is meant to be uncommitted as to what a states-of-affairs can relate to. It even excludes the earlier examples we had in order not to imply any restriction on use (it is simply anything that can be evaluated as holding or not at the moment). Should level 2 introduce specific ontolological commitments on this?

Issue being considered by Jon Doyle, James Allen, Mike Uschold, plus others.
---
Level 2: The Definition of Activity in the Context of Plans
An EVALUATION-CRITERIA is an ASPECT of [one or more] STATES-OF-AFFAIRS or an ASPECT of [one or more] PLANS.
Does ASPECT = FUNCTION?
An EVALUATION is a predicate (holds/does not hold) or a preference ranking on [one or more] EVALUATION-CRITERIA.
An ACTIVITY takes place over a TIME INTERVAL identified by its two ends, the BEGIN TIME POINT and the END TIME POINT. The BEGIN TIME POINT is temporally before the END TIME POINT.
An ACTIVITY-SPECIFICATION may have CONSTRAINTS associated with it [and its TIME-INTERVAL].
An ACTIVITY-SPECIFICATION may be decomposed into one or more ACTIVITY-DECOMPOSITIONS.
ACTIVITY-DECOMPOSITION: The specification of how an ACTIVITY is decomposed into one or more SUB-ACTIVITIES; this may include the specification of constraints on and between the SUB-ACTIVITIES [and their TIME-INTERVALs].
SUB-ACTIVITY: Sub-activities are the constituent activities designated in any ACTIVITY-DECOMPOSITION.
PRIMITIVE ACTIVITY is an ACTIVITY with no (further) ACTIVITY-DECOMPOSITION.
CONSTRAINTS can be stated with respect to none, one or more than one time point. They express things which are required to hold. They are evaluable with respect to a specific PLAN as holding or not holding.
Such constraints may refer to world statements (conditions and effects), resource requirements and usage, authority requirements or provision, etc.
Level 2 Issues Remaining
Only the first two items relation to evaluation-criteria for objectives have been discussed by the wider group to date (13-Sep-96). The other items are rewordings of definitions from the 2-Feb-95 KRSL-Plans level 2 description.

Issue being considered by all participants.

a continuing consideration of the evaluation-criteria for objectives to ensure it mets all of our needs. The current draft reflects hard and soft objective evaluation-criteria and appears to meets all earlier points raised?

Issue being considered by James Allen and Steve Smith.
---
Level 3: Aids to Specifying Activities
At this level, aids to enable the specification of activities and the constraints on activities are to be provided. These are likely to include:
commonly used mechanisms for expressing activity orderings (and-split, and-join, or-split, or-join, conditionals, etc), the introduction of "dummy" nodes (to simplify ordering constraint specification and user communication) or activities in an activity-specification, etc.

Issue being considered by Austin Tate.

relationship of terms like "resource", "authority", etc to the more general definitions relating to states-of-affairs in levels 1 and 2.

Issue being considered by Austin Tate.

A need to allow for annotations, outstanding issues, and dependencies of various kinds to be recorded within plans.

Issue being considered by Austin Tate.