---
Thrust SSC & Black Rock Desert
---
Thrust SSC and Black Rock Scenery for Microsoft Flight Simulator
Austin Tate and Iain Murray, Version 1.2 31-May-2000
http://www.aiai.ed.ac.uk/~bat/GA/thrust-msfs.html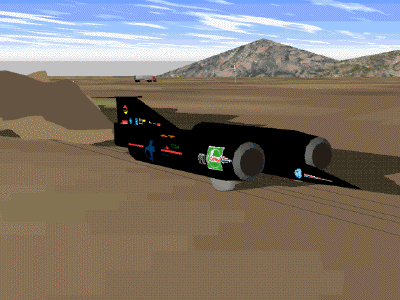 Thrust SSC achieved the world's first Supersonic Land Speed Record on Black Rock Desert, Nevada, USA at an average speed of Mach 1.02 on a two way run within the hour on 15-Oct-1997. Congratulations to project director Richard Noble, driver Andy Green and all those associated with the project. The official web site for Thrust SSC is http://www.thrustssc.com and Richard Noble's own web site is at http://www.richard-noble.co.uk/. A site by John Coppinger at http://freespace.virgin.net/john.coppinger/thrustss.htm has some nice images of the team during the record breaking campaign.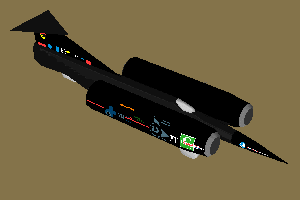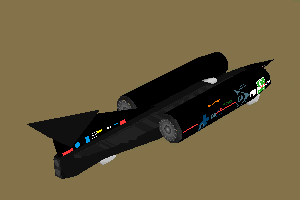 Images from Thrust SSC version 1.2 for Microsoft Flight Simulator by Austin Tate, 2000.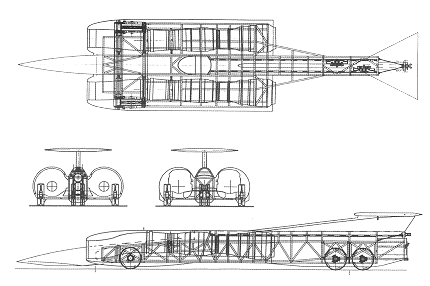 Plans from the book Thrust by Richard Noble, published by Partridge, 1998.
Thrust Specifications
Length: 54ft. Width: 12 ft.
Wheelbase: 28ft. Front Track: 9.75ft. Rear Track: 1ft.
Dry Weight: 9.5 tons Fuel Weight: 1 ton
Engines: 2X Rolls Royce Spey 202 Thrust: 2X22,000lbs.
Chute: 7.5ft. dia. Front Wheels: 34in. X 10in. Rear Wheels: 34in. X 6in.
Reference images of Thrust SSC and the Black Rock Desert Course are available here.
Scenery for Black Rock Desert, Nevada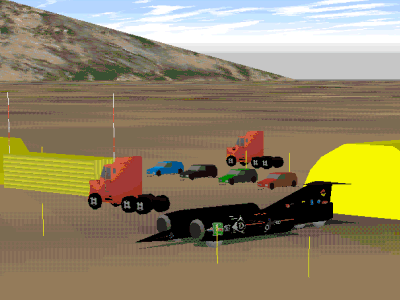 Black Rock scenery and movement for Thrust dynamic scenery prepared by Iain Murray <irmurray@computing.dundee.ac.uk>. Iain's own web page is here.
Instructions for installing the scenery and for enabling the Thrust SSC dynamic scenery are here.
Flight Shop Aircraft Converter
| | |
| --- | --- |
| | You need to have a number of files to allow Flight Shop converted aircraft to be used with Microsoft Flight Simulator 98. These are put in the correct places in your Flight Simulator 98 directory when you install the Microsoft Flight Simulator Converter. |
---
Page maintained by Austin Tate <a.tate@ed.ac.uk>. Mach One Club Member No. 4088.