---
Origin
---

Could this car have been one of the inspirations for Reg Hill's design for Supercar? Other suggestions and possible influences follow.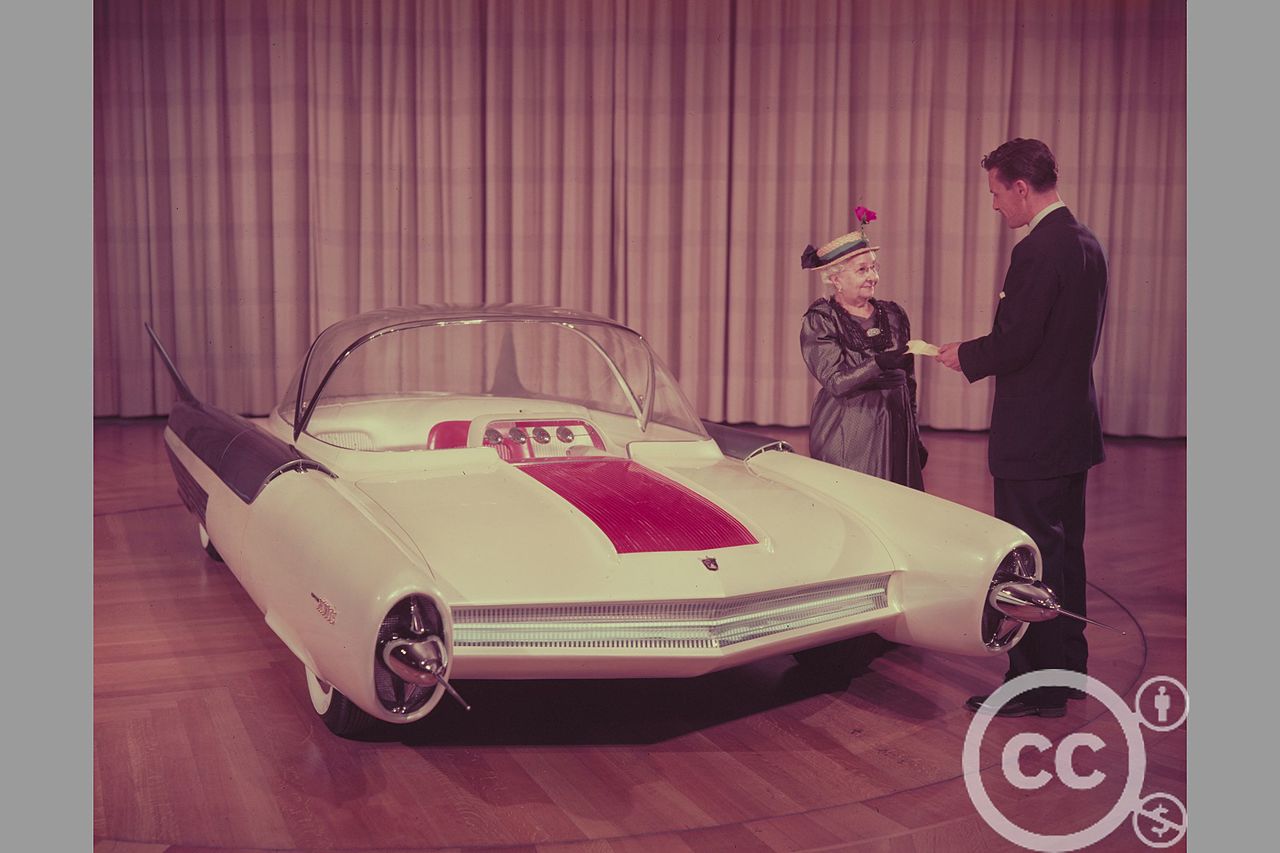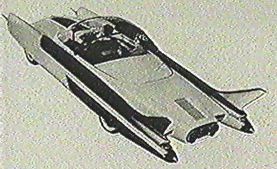 The Ford FX-Atmos - a future experimental model created by Ford's Advanced Design Studios for the 1954 Chicago Auto Show (see Wikipedia Article).
The car was identified from a postcard (No. QP-126) produced in 1989 by Quantity Postcards and discovered at Movie Memories Poster Shop, 502 Waverley Street, Palo Alto, CA 94301, USA (tel (415) 328-6265). KBren71455@aol.com notes that the car is featured in the book "Cars Detroit Never Built" as dating from 1954. The Vintage Web - Classic Car Picture Archive has an image of the car and notes it as being a prototype from 1958. The car appeared in an April 1995 advert in Wired Magazine for Qualcomm's Eudora E-mailer. The car, along with a large image of Supercar, also appeared in the December 1996 issue of T3 Magazine in the UK. ANIM8Rfsk@aol.com provided the overhead picture of the Ford FX-Atmos.
---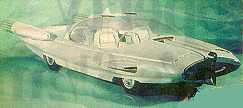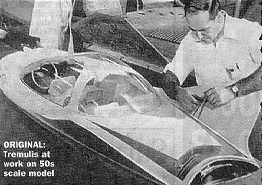 In 1957, Ford Motor Company's Advanced Design Activities Unit produced a prototype "Car for the Millenium" at Ford's Detroit HQ. A model was built by Alex Tremulis, the director of the unit and fellow designer Bill Balla. The X2000 designs were recently found in the Ford Museum in Detroit, Michigan, and the car was built by Andy Saunder's, a car mechanic from the UK (Report in The Express, Monday, May 17, 1999).

---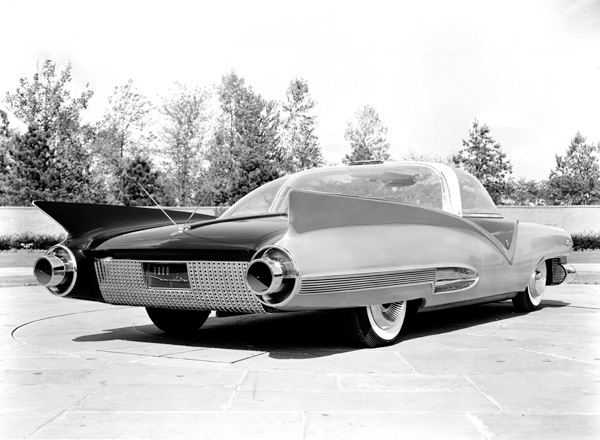 Andrew Pixley in his book "Supercar - Satisfactory, Most Satisfactory" published in 2021 to accompany the 60th Anniversary release of Supercar on Blu-ray by Network also mentioned the Ford Mystere 1955 Concept car as a possible source of inspiration.

See carstylying.ru for more details and images.

---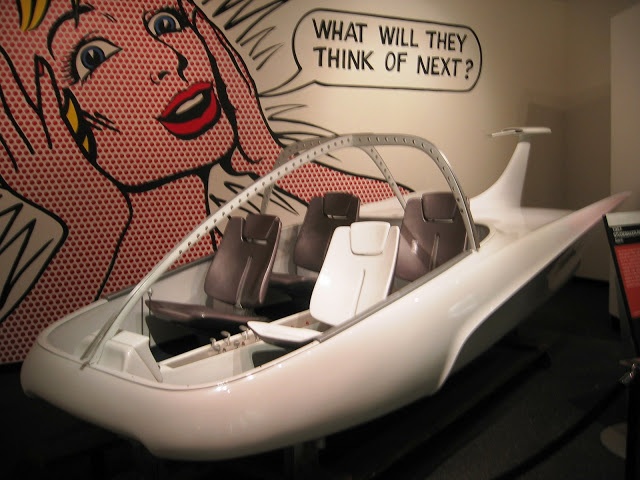 Studebaker-Packard Astral built as a concept car in 1957 (Youtube: Studebaker-Packard-Astral). Image and information from curbsideclassic.com

---
YouTube: Ford Atmos, Ford Mystere and Studebaker-Packard Astral
---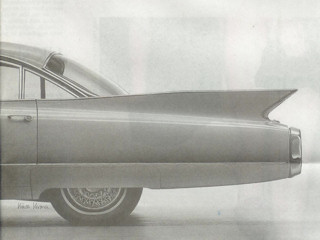 The 1959 Cadillac Eldorado Biaritz and 1960 Eldorado Fleetwood designs from General Motors are another possible source of inspiration for the Supercar design and were current cars around the time of Supercar's creation. The 1959 and 1960 Eldorado side profile to the rear is similar to that of Supercar and its 192cm long fins closely match the shape of Supercar's.

An image of the 1960 Cadillac Eldorado Fleetwood is show to the right, taken from a Glenmorangie Scotch Whisky advert in 2011

A pink diecast model of the Cadillac Eldorado Biaritz is available from Maisto in 1/18th scale [Image 1, Image 2].

---
Keith Brenton (KBren71455@aol.com) has identified cars that he believes may have contributed to the design of Supercar. The images are from the book "The World's Great Automobile Stylists" by John Tipler, copyright 1990, Mallard Press/BDD Promotional Book Company, Inc/666 Fifth Avenue/New York, N.Y. 10103.

Shows designer Harley Earl with his 1954 Firebird I, left, a jet on wheels, and his later Firebird II.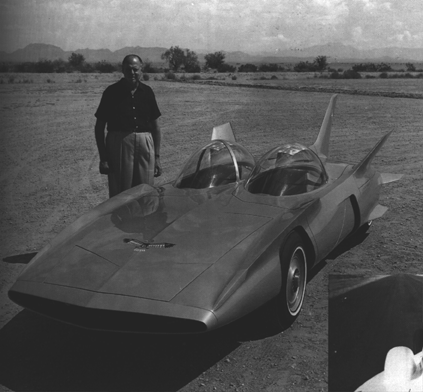 Shows designer Harley Earl at the side of his 1959 Firebird III turbine car.
The lines of these two cars show some interesting similarities to Reg Hill's Supercar.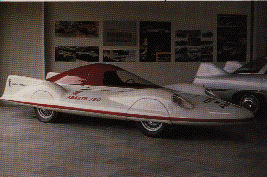 So does this Fiat Abarth 750 1957 design by Giovan Battista (Pinin) Farina.


---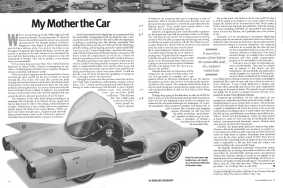 Anim8rfsk@aol.com kindly supplied an article from a supplement to TIME magazine called TIME Digital - Your Guide to Personal Technology, dated March 8, 1999. It pictures a range of 1950s and 1960s Futuristic Cars - many of which feature on this page. The largest image is of the 1959 Cadillac Cyclone Concept Car. See http://www.timedigital.com. For example the article on Dream Machines appeared on-line in March 1999.


---
If anyone has information on the design origins of Supercar, has early A.P.Films or ITC material on the Supercar design, please let me know at a.tate@ed.ac.uk.
---
All material on Supercar is copyright by Polygram. This is a fan maintained page intended to promote the shows of Gerry Anderson.

Supercar Home Page