---
Orbiter
Orbiter web link: http://orbit.medphys.ucl.ac.uk
Orbiter Add-ons: http://www.orbithangar.com/gallery.php
Download Orbiter and add-ons of interest from this site and through its links page.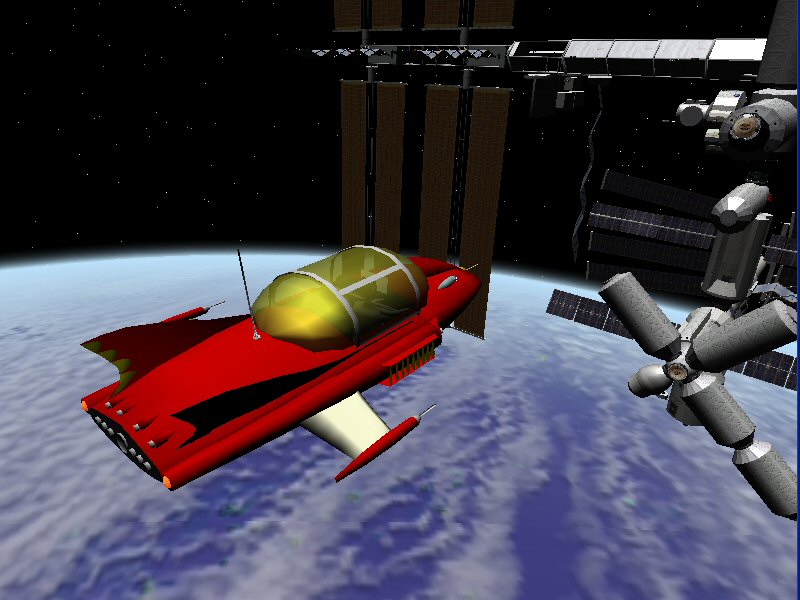 Supercar for Orbiter
http://www.aiai.ed.ac.uk/~bat/GA/SC-MODEL/ORBITER/sc-orbiter.zip.
Download the Supercar for Orbiter distribution from this site and follow the instructions below.

To use Supercar in Orbiter unzip the files into the Orbiter base directory. The files will then be placed into their appropriate places as follows:
Supercar.msh in the Meshes directory
Supercar.cfg in the Config directory
*.dds files in the Textures directory
*.scn files in a Supercar directory within the Scenarios directory
The introductory Supercar-Orbiter.html file and a Supercar-Build directory will be in the main Orbiter directory.
Now run Orbiter and select one of the Supercar scenarios. The distributed .scn file for Final Appoarch to KSC does not work with Orbiter 2010. Use the replacement available at http://www.aiai.ed.ac.uk/~bat/GA/SC-MODEL/ORBITER/2010/ (file Supercar on Final Approach to KSC.scn).
Use mouse wheel to zoom in and out. Right click and hold on mouse and move round to change viewpoint.
Pause and restart the simulation using ctrl/P.
To undock from ISS use ctrl/d.
Use the num pad for thrusters. + is main thrust, - is reverse thrust, try others for various angular thrusters. Use 5 (centre of num pad) to fire thrusters enough to stablise and hold position.
F1 toggles the HUD flight controls on/off, F4 gives some options.
ctrl/q returns you to the Orbiter scenario selection page.
Build Directory
Supercar.3ds is a 3DS mesh exported from a Supercar model created in Flight Simulator Design Studio (see http://www.aiai.ed.ac.uk/~bat/GA/supercar-msfs.html) using the DXF format exporter from CVA Plugins by Jioi Masnik (<jmasnik@periskop.cz> - flightsim.periskop.cz) and then modified in Cinema 4D and exported to .3DS format from there.

The original 3D models are at http://www.aiai.ed.ac.uk/~bat/GA/supercar-3d.html and the Supercar Microsoft Flight Simulator model at http://www.aiai.ed.ac.uk/~bat/GA/supercar-msfs.html

The Cinema 4D and 3DS models used as the basis of the Orbiter model mesh are in the Build directory of the distribution for future work. They include retracted wings and a number of other parts that still need work.

The 3DS model was converted to Supercar.msh using the 3ds2msh utility from the Orbiter Add-Ons sites.

The material and textures list at the end of the converted .msh file was amended manually to be as shown in materials.txt file in this directory.

The main body textures still need work. But the BMP versions are included in the build directory for later work.
Versions
| Date | Description |
| --- | --- |
| 27-May-2002 | Initial Release |
| 29-Apr-2003 | Fixed "Supercar at ISS.scn" scenario to provide some startup fuel. Thrusters did not work otherwise. |
| 21-Aug-2005 | Updated scenarios for 2005 version of Orbiter. Restructured ZIP release file to unzip into standard Orbiter locations. |
Other Gerry Anderson Craft in Orbiter
Search for craft of interest to you in http://www.orbithangar.com/. E.g.
---
All material on Supercar is copyright by Granada TV. This is fan created material intended to promote the shows of Gerry Anderson. For more information and other items see the Supercar Home Page