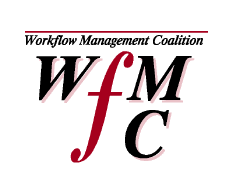 Please note that the WfMC Web Site moved to a new home at http://www.wfmc.org on 16-Dec-1997.

If you are really looking for archived files from the original site prior to handover on 16-Dec-1997, then look in the archived site.

The Workflow Management Coalition was established in August 1993 as a non-profit international body for the development and promotion of workflow standards. Its membership is open to all parties interested or involved in the creation, analysis or deployment of Workflow Management Systems.
Contacts
Layna Fischer, General Manager
Workflow Management Coalition (WfMC)
2436 North Federal Highway #374
Lighthouse Point
FL 33064, USA

Tel: +1 954 782 3376
Fax: +1 954 782 6365
E-mail: wfmc@wfmc.org
Web: http://www.wfmc.org