Project Sponsors
Defence Research Agency (DRA) Farnborough, UK
Working with RAF Pitreavie Search and Rescue Cordination Centre.
Project Summary
The Search & Rescue project has two principal objectives:
to develop a generic approach, with appropriate tools to assist in reliable capture of knowledge related to planning, scheduling and resource allocation in the search & rescue domain,
to validate the approach by building a demonstrator system.
The project was undertaken by AIAI and the AI Group at the University of Nottingham.
Project Papers
Shadbolt, N. Cottam, H., Tate, A. and Beck, H. Initial Proposal Document: Acquiring and using planning Knowledge for search and Rescue.
Cottam, H., Shadbolt, N., Kingston, J., Beck, H. and Tate, A Knowledge Level Planning in the Search and Rescue Domain Proceedings of Expert Systems 95 Conference, Cambridge, 1995. [ PDF File ]
Kingston, J., Shadbolt, N. and Tate, A. CommonKADS Models for Knowledge Based Planning AAAI, 1996. [ PDF File ]
Cottam, H. and Shadbolt, N. Knowledge Acquisition for Search and Rescue, Proceedings of Tenth Knowledge Acquisition for Knowledge-Based Systems Workshop (KAW-1996), Banff, Canada, November, 1996. [ HTML File ]
Project Personnel
AI Group, University of Nottingham:
Prof. Nigel Shadbolt, Hugh Cottam
AIAI, University of Edinburgh:
Prof. Austin Tate, Mr. John Kingston
UK Search and Rescue Coordination Centre, Pitreavie
Squadron Leader W. Gault
Search & Rescue Resources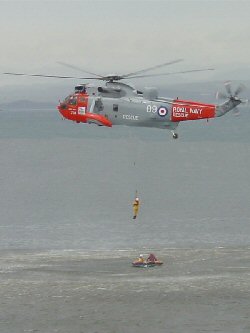 Sea Rescue: UK Search and Rescue of downed airmen by a Sea King helicopter [Photo by Austin Tate]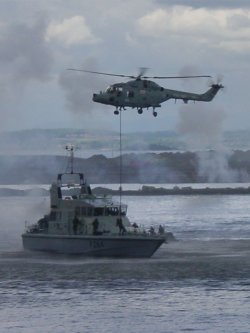 Sea Rescue: UK Combat Rescue at Sea by a Lynx helicopter over a Royal Navy P2000 fast patrol boat [Photo by Austin Tate]