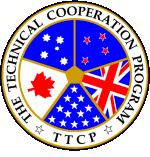 CoAX
Coalition Agents eXperiment
Binni 2000 (9 Months) Demonstration
Supported by The Technical Cooperation Program,
United States Air Force Research Laboratory/Information Directorate, Rome Research Site,
Defense Advanced Research Projects Agency,
and the UK Defence Evaluation Research Agency.
---
Overall Objectives:

Show that an Agent-based C2 framework can support agile and robust Coalition operations
Show Domain Management services can structure agent relationships and enforce coalition policies
Show Intelligent Task and Process Management can improve agent collaboration
Show that the CoABS Grid can be used to rapidly integrate a wide variety of agents and systems
Accomplishments and Impact to Date:

Demonstrated proof-of-concept C2 coalition architecture within a realistic coalition scenario
Connected disparate stand-alone military systems while taking coalition concerns into account
Agent organization, behavior, security and resources managed by explicit coalition policy control
Potential influence on Joint Battle Infosphere, Joint Battlespace Digitisation, CINC 21, and Coalition Theatre Logistics perspectives
Interest from additional nations in participating
Specific Aims of 9-month Demonstration:

Integrated Binni scenario demonstration with MBP/CAMPS link containing PP monitoring, information-providing, and malicious agents, and showing dynamic task and communication, registration, and resource control policy management of approx. 25 agents in six KAoS domains (including a subdomain) on the grid.
Stand-alone demonstrations of additional coalition-related capabilities.
Specific additional objectives beyond the 6-month demonstration:

US domain with domain-aware AODB and CAMPS agents
Ariadne 'come-as-you-are' open source weather agent
Observer (Intel) domain containing surrogates for Dartmouth observer agents.
Gao Observer subdomain containing malicious observer agent whose denial-of-service attack is countered by KAoS and NOMADS domain management resource policies and control mechanisms.
More powerful web-based KAoS policy administration tool (KPAT) administering communication, registration, and resource policies.
Process Panel including process product views

Stand-alone demonstrations of:

MIT Sloan 'agent death' exception handling,
University of Michigan plan deconfliction, and
Dartmouth 'observer agents'
CoAX Binni 2000 Demonstration Storyboard:
---
Agents and Domains:

DERA's Master Battle Planner (MBP) in JFAC HQ domain generates Coalition Air Operations Plan and visualisation based on the following:

Theatre sources providing information about friendly and opponent assets and their capabilities;
Air Operations Data Base (AODB) information provided by LM-ATL's EMMA/CAST "come-as-you-are" agent;
Supporting plans for air mobility provided by the AFRL's CAMPS system.
Weather information provided from publicly available (web) sources by USC/ISI's Ariadne agent;
Local Intel source in the JFAC HQ domain;
'Private' Intel source from the Gao domain

Boeing and UWF/IHMC's KAoS Domain Managers (DM) and Matchmakers (MM) are present in each domain:

DMs coordinate agent registration, policy administration and enforcement
MMs federate to provide information about local and remote agent services

AIAI's Process Panel (PP) in JTFHQ domain monitors DERA MBP's activities for JTF Commander.
Stand-alone Demonstrations:

Dartmouth's Observer Agents
MIT Sloan's Agent Exception Handler
University of Michigan's Conflict Resolution Agent
---
Coalition Issues Addressed:

Interoperability of new and legacy systems
Implicit nature of many coalition policies
Difficulties in reflecting coalition structure within coalition information systems
Data security
Lack of control over semi-trusted software
Fragility of system under attack
Use of public services and data sources
Resolving inconsistent information sources
Dealing with disinformation
Recovery from system failure or service withdrawal
Dynamic discovery of new services and data sources
Agent Technology Issues Addressed:

Use of CoABS grid to provide foundation for rapid solutions to interoperability issues
Use of federated matchmaking to compensate for system failure or service withdrawal
Use of agent domains to structure agent relationships
Control of agent organization, behavior, communication, security, and resources by explicit policy
Detection of malicious or buggy agents
High-level tools for visualization and management of tasks and processes
---
Maps:
Screen Images:
Screen Images for Stand-alone Demonstrations:
Screen Movies:

There are two formats for the screen movies. One uses a standard AVI codec (Microsoft RLE) that should be installed by default on Windows media players. The other format uses Techsmith Camtasia screen recording format (using a high compression codec which leads to much smaller files for downloading). They are packaged as Windows AVIs which require the TSSC codec. TSSC.exe is available separately to install just the codec ahead of running the screen movies if required (Windows .exe file 191KB). Administrator user rights are required on Windows NT or Windows 2000. The screen movies are 1024x768 pixels in size and 256 colours and should be run full screen on playback. Full screen playback on Windows Media Player can be toggled with Alt+Enter. On Apple Macintosh, the AVI files should automatically convert to Quicktime, if you have a recent version of Quicktime installed (e.g., 4.1 or later). Otherwise you can get an older version of the AVI-to-QT utility at http://www.zdnetasia.com/zddownloads/reviews/story/0,2000013881,20088273,00.htm