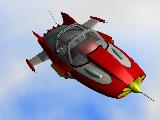 ---
Supercar 3-D CAD Model
---
This is a quick entry page as an alternative to the full graphics-rich Supercar 3D Model Page which you might want to go as a root if images are loading too slowly.
---
Carlton International Media Ltd. are copyright owners for Supercar. Carlton are not associated with this world wide web site. This is a fan maintained page intended to promote the shows of Gerry Anderson. Care has been taken to avoid the use of copyright images and other materials, but concerns over unsuitable use of materials, or suggestions for improvement on this page should be sent to Austin Tate a.tate@ed.ac.uk.

The models are provided as is and with no warranty of any kind (of course). Please let the individual creators know of any problems with using them though.

Supercar Home Page