!a.tate@ed.ac.uk updated: Mon Feb 1 13:43:15 1999 >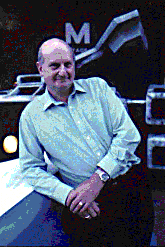 ---
About Gerry Anderson
---


Gerry Anderson has worked within the British film and television industry for over 50 years, starting out as a trainee with the Colonial Film Unit in 1943. From that time Gerry worked an apprenticeship that included being assistant editor and dubbing editor on many British films before making his debut as a director in 1954, for a television series called 'You've Never Seen This'.
In 1955 he co-founded his first company, Pentagon Films, which lead to the formation, with Arthur Provis, of A.P. Films and the beginnings of a unique career as a creator and producer of puppet films. This started initially in a small way with two series for young children called, 'The Adventures of Twizzle', and 'Torchy the Battery Boy', both made for Associated Rediffusion via Pelham Films. From here the company made a pilot film, a puppet western, 'Four Feather Falls' which was bought by Granada Television, and a series followed.
Techniques used on 'Four Feather Falls' were the origins of a form of puppet film making which Gerry termed "Supermerionation", a word which has become synonymous with the many series that were to follow other the next ten years. The first of these 'Supercar', lead to A.P. Films being financed and eventually bought by Lew Grade, and thus began a long association with The ITC Entertainment Group Ltd, now 'Polygram Television International".
A brief foray into live-action with a low budget file 'Crossroads To Crime' and a series of commercials, for which Gerry won the 1961 advertising award, followed before he returned to puppets and 'Fireball XL5', a series which was networked in America on NBC. 'Stingray' followed, which was the first colour film television series to be made in Britain.
The popularity of Gerry's work was to reach it's height with his next series, 'Thunderbirds', which sold to more than 150 markets in the United States and 66 countries world-wide. Two spin-off films were also made for United Artists, 'Thunderbirds Are GO' and 'Thunderbird Six'. For his work on Thunderbirds, Gerry received the Royal Television Society silver medal for outstanding achievement and was awarded an Honorary Fellowship of The British Kinematograph Sound and Television Society.
By 1966 A.P. Films had become the Century 21 Organisation, chaired by Gerry with studios, record, toy, publishing and merchandising divisions.
'Captain Scarlet and The Mysterons' and 'Joe 90' followed Thunderbirds, both series increasing the level of technology used in film production of this kind. It is important to note that many of the production staff working for Century 21 learnt their trade here and effects techniques developed for the shows are still being used in the film industry today.
1968 saw Gerry move back into live-action with the film 'Doppelganger' (aka Journey To The Far Side Of The Sun). Made for Universal, this film received an Academy Award nomination for special effects. Gerry combined both live-action and puppets in his next production, the adventure\spy series 'The Secret Service', before moving wholly into live-action with the highly acclaimed series 'UFO'.
The 1970's saw Gerry diversify into many varying aspects of film production. 1971/72, he headed Group 3 Productions to make the crime\adventure series 'The Protectors', starring Robert Vaughn. This was a departure from his previous science fiction work and was filmed on location across Europe. During this time he also made an experimental puppet film 'The Investigator', made entirely on location on the Island of Malta.
From 1975/77 Gerry created and headed production on what was then the most prestigious science fiction television series ever made in Great Britain, 'Space: 1999'. With an international cast and very high production values, this series enjoyed very much similar success to that of 'Thunderbirds', also selling to a world-wide market. It remains popular today, especially in the United States. Whilst 'Space: 1999' was in production a one-off educational film was made jointly for the BBC and NBC. Called 'Into Infinity: The day After Tomorrow', this live-action movie used a science fiction story to explain the many theories of Albert Einstein.
Following these programmes Gerry had a hiatus from film production, but continued to do development work in the United States and the Far East, and in 1980, was chairman of the Southern Counties Television Consortium in the franchise battle for the Southern Television region.
In 1981, an appreciation society was formed in recognition of Gerry's work, 'Fanderson'. This society has continued successfully to the present day and is a well respected organisation amongst those professionals associated with the Anderson productions. Also in 1981, Gerry was appointed Honorary President of the International Rescue Corps, a post he held for eleven years. Taking its' inspiration from 'Thunderbirds', this registered charity is made up of people from all walks of life, but with a core of personnel from the emergency services, who travel across the world and assist with rescue at scenes of natural disasters such as earthquakes. To date this organisation has worked in areas as far a field as Mexico, Russia, Iraq and Japan.
Along with the above, 1981 saw Gerry's return to that area of film production in which he made his name, puppetry, and as before, he incorporated all of the latest innovations and techniques in the making of these new productions. With a new company, Anderson Burr Pictures, Gerry made 'Terrahawks' for London Weekend Television. Then came a pilot film for what Gerry hoped would be his next series - 'Space Police'. Combining live-action and the most sophisticated puppets available, 'Space Police' told the story of a human cop Lieutenant Chuck Brogan and his alien colleagues. High production costs however, meant that this programmes' concept ideas would not be re-addressed for many years.
'Dick Spanner', a private-eye spoof set in a parallel universe, was commissioned by Channel 4 and the third and final Anderson Burr production. The first Anderson series to utilise stop-motion animation, 'Dick Spanner' was a total original and unique combination of a Bogart-like detective and bizarre, off-the-wall humour.
The latter half of the eighties saw Gerry diversify yet again his work within the film industry. In 1986 he entered the commercials field as a director and, using puppetry techniques from his previous productions, produced many award winning commercials. He has also entered the world of theatre, producing special effects for the West End musical 'Return to The Forbidden Planets'. In 1990 this won the 'Evening Standard Musical of the Year' award over stiff competition, and has since toured the United States and Australia. Gerry's work was also the inspiration for an inventive mime show entitled 'Thunderbirds FAB', which has toured world-wide, following very successful runs in the West End. He has even entered the pop world with two videos, 'Project 90' and 'Calling Elvis' for Dire Straits.
September 1991 saw the first UK network screening of 'Thunderbirds' and the irresistible excitement of the show captured a whole new generation of viewers. 30 years after the original airing, Britain was again gripped with 'Thunderbird fever', high viewing figures and another record merchandise campaign. This, and many of his other shows, have not been off the air since.
The 'nineties introduced yet another media to Gerry, that of cel animation with a few episodes of a possible series called 'GFI', being made jointly made in Great Britain and Russia.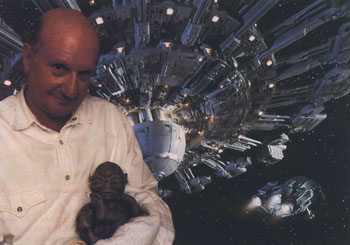 1994 saw Gerry's long awaited return to television production when, after an eleven year wait, 'Space Police' finally became reality with the spectacular 'Space Precinct'. Again, Gerry is back at the head of Britain's most expensive, prestigious and technically advanced science fiction series. Again there are world-wide sales and multi-million pound merchandising.
With all that Gerry Anderson has contributed to the British film and television industry, for all that he has accomplised within it, and perhaps for more importantly, for all the joy and sense of wonder he has brought millions - young and old - his name will always be part of our television history.
---
© & TM The Space Productions Ltd Partnership 1995.
The text on this page was produced by Luis E. Fonseca & Mario Silva at http://www.abacus.ghj.com/Sci_Fi/ganders/ga_about.htm.
Material on Gerry Anderson shows is copyright by Polygram, Mentorn, or others. This is a fan maintained page intended to promote the shows of Gerry Anderson. An Index to all Gerry Anderson-related pages at this site and a set of Gerry Anderson Links are available. Comments or suggestions for improvement on this page to a.tate@ed.ac.uk.