Edinburgh
PEA Pod
Proof Planning and Mixed Initiative Planning
13-May-2002, 10:30am, F13, 80 South Bridge
Organisers: Alan Smaill and Alan Bundy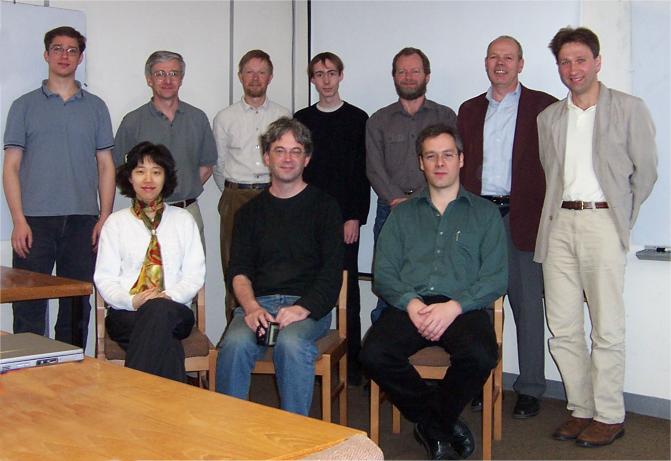 Some of the Informatics folks involved in the Workshop on Proof Planning and Mixed Initiative Planning, 13-May-2002, Edinburgh. The third event run by PEA Pod. Large image here.
Objective:
The purpose of the meeting was to exchange experience and ideas between those involved in mathematical proof planning and those involved in other forms of mixed initiative and interactive planning.
Speakers were:
John Levine: Mixed initiative planning, crisis management and plan optimisation.
Alan Bundy: A critique of proof planning
Alan Smaill: Linear logic and plan formation
Julian Richardson: An Adversarial Planning Approach to Go
Attendees were:
Alan Bundy (CISA), Bill Ellis (Heriot-Watt), Julian Richardson (Heriot Watt), Jessica Chen-Burger (CISA), John Levine (CISA), Austin Tate (CISA), Roy McCasland (Visitor to CISA/MRG), Henrik Westerberg (CISA), Fiona McNeill (CISA), Ewen Maclean (CISA), Paul Jackson (ICSA), Chris Mellish (CISA), Stephen Cresswell (Durham) [14 in total]
---

Page maintained by Austin Tate, Updated: Thu Feb 6 12:49:09 2003
Free pea pod clip art from Don's Kitchen.