Edinburgh
PEA Pod
Natural Language Applications and Planning
27-Aug-2001, The Millennium Room, 2 Buccleuch Place, Edinburgh
Organisers: Jean Carletta and John Levine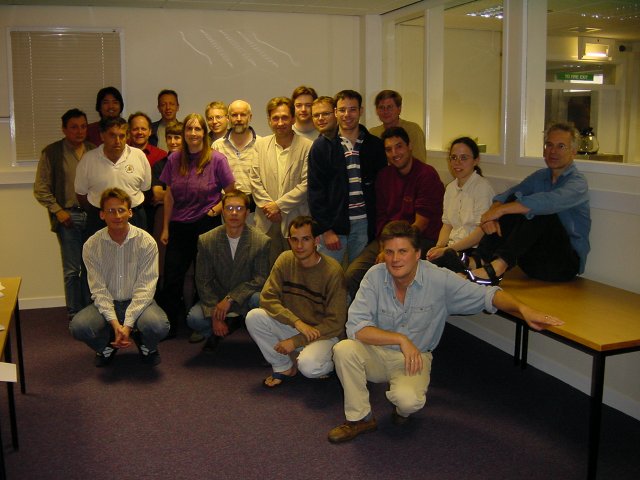 Some of the Informatics folks involved in the Workshop on Natural Language Applications and Planning, 27-Aug-2001, Edinburgh. The second event run by PEA Pod. Another image: Bonnie Webber.
In this workshop, we discussed the use of planning and plan representations within natural language applications. Planning is pervasive in human activity, including in the way that people use language. Natural language applications may wish to use plan representations to (among other things):
plan the structure of a text or dialogue;
plan the surface realization associated with a particular intended meaning
understand the intentions of the humans with which they converse
represent and reason about the domain of discourse.
The major issues which were addressed in the workshop discussion were:
what sorts of planners and plan representations can be used for natural language applications? Although the natural language community has traditionally rolled their own, can we build on standards and existing planners?
How can one best allow for dialogue, which requires more than just planning, but also the monitoring and adjustment of plans?
What should plans for natural language applications be optimized for, and which optimization techniques are appropriate?
Are there aspects of how people use natural language which suggest good planning mechanisms to use (such as the apparent re-use of not just words but entire texts suggesting a case-based approach)?
The following people attended the workshop:
D K Arvind (ICSA), Johan Bos (ICCS[LTG]), Jean Carletta (ICCS[LTG]), Alison Cawsey (Heriot-Watt), Mark Core (ICCS), Bruce Eddy (Heriot-Watt), Mike Fourman [CISA/ICCS], Nikiforos Karamanis (ICCS), Ewan Klein (ICCS), John Levine (CISA[AIAI]), Ruli Manurung (ICCS), Colin Matheson (ICCS[LTG]), Nestor Miliaev (Heriot-Watt), Johanna Moore (ICCS/HCRC), Jon Oberlander (ICCS), Emiliano Gomes Padilha (ICCS), Graeme Ritchie (ICCS), Mark Steedman (ICCS/HCRC), Austin Tate (CISA[AIAI]), Sebastian Varges (ICCS), Bonnie Webber (ICCS/CISA), John Zeleznikow (Law School), Klaus Zinn (ICCS), Ofir Zussman (ICCS).
SCHEDULE:
10-10:15 Welcome and Introductions around the room
10:15-10:45 John Levine, "Modern Planning Techniques"
Postscript Paper accompanying the Talk,
Recent Papers related to the Talk
10:45-11:15 Johanna Moore, "The Role of Planning in Tutorial Dialogue Systems"

BREAK

11:30-12 Mark Steedman, "The Role of Planning in Natural Language Semantics"
12:30-1 Bonnie Webber, "Micro-planning in SPUD and consequences for the design of linguistic resources"

LUNCH

2-3:30 Open Forum Discussion. Two possible topics for discussion are:

how one decides whether planning is the right technology for a particular NL application; and
search strategies to make planning faster where it is necessary.

3:30-4 Summary, Conclusions, Plans for any further activity
---

Page maintained by Austin Tate, Updated: Thu Feb 6 12:48:51 2003
Free pea pod clip art from Don's Kitchen.