A knowledge-based provisioning system prototyped for use by the RAF Logistics Command to support their consumable parts procurement process
OVERVIEW
Expert Provisioner is a knowledge-based provisioning system prototype, designed to support RAF Range Managers in the procurement of consumable supplies. The system consists of a graphical user interface to display the procurement item requisition information and a consultation style interface to a knowledge based system.
BUSINESS PERSPECTIVE
RAF Wyton houses the central supplies procurement centre for the RAF. 500 Range Managers are responsible for processing orders valued at over 1.2 billion pounds. The RAF wishes to have a better understanding of their purchasing commitments as well as a improving the consistency and quality of purchase decisions. By linking into existing procurement information and providing a knowledge based decision aid, Expert Provisioner allows the RAF to know exactly what has been bought, what it has cost and why it is needed. The aim is to reduce the uncertainty of procurement budgets near financial year-ends, wastage through over-ordering, taking advantage of price breaks for large orders and maintaining consistency of order processing. Logistics Command at RAF Wyton commissioned AIAI to develop a prototype knowledge-based system. Expert Provisioner was successfully evaluated by end users and a full production system developed.
As a technology transfer organisation, AIAI was able to provide training through which RAF staff could understand more about AI-based technologies and how they could be applied to Expert Provisioner. AIAI then worked with the RAF to develop the prototype system and again supported the RAF personnel to develop the knowlege-based component of the actual production system.
TECHNICAL PERSPECTIVE
Expert Provisioner is a knowledge-based provisioning support system. Its goal is to support RAF Range Managers process procurement orders for consumable supplies. It is a consultation based system whose start point is an electronic purchase order form and whose end point is a recommendation of whether to buy the item or not, its cost and due delivery date. Purchase recommendations are made based on many factors including forecast demand, unit costs, shelf life and existing stock levels. The system removes much of the mundane work in order processing as well as potential for misinterpretation of information. The system is designed such that the user remains in control throughout the consultation and can, if desired, override decisions.
The prototype system interfaced to two forms of electronic purchase information. The R001 form represents the purchase requisition information.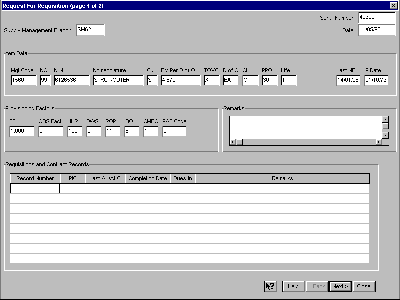 The MPRC form represents information specific to each item, including its source, its price and previous orders for the item.
The information resides in Access databases and is accessed by the knowledge based system, which was constructed using NASA's CLIPS rule based tool. The prototype system runs on PC's under Windows 3.1.
---
Last updated 21st August 1997
by John Kingston